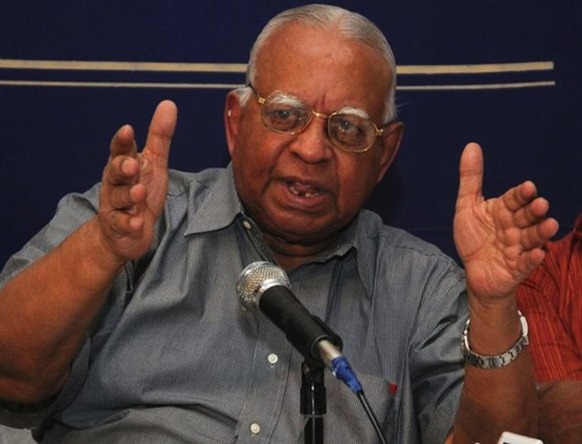 In an attitude of moderation, the Tamil National Alliance (TNA) told Parliament yesterday that it was wrong to assume that the party wanted the armed forces out of the North and the East.
TNA leader R. Sampanthan who participated in the committee stage debate of the Defence Ministry said his party only wanted the armed forces to be present in these areas but without any adverse impact on the day to day lives of civilians.
"We don't want the armed forces stationed there to subjugate the Tamil people, to make them feel they are not equal citizens of this country.  We don't want the armed forces to make our people feel inferior.   Our people want to live with self-respect and dignity. That is all. We are not demanding the total withdrawal of the armed forces.  They should be there as they are in any other part of the country," Mr. Sampanthan said.
However, he also said that as many as 150,000 soldiers had been stationed in different parts of the North, and their presence in such a large number was totally unacceptable and unwarranted.
"They can be confined to the places where they were before the war. They can maintain their intelligence and carry out surveillance. It is a legitimate duty. We only want them not to have an adverse impact on the lives of our people," Mr. Sampanthan said.
He said the military is cultivating large swathes of land in the North especially in areas such as Iranamadu and Keravil.
"Our people want to get back to their agriculture, fisheries, animal husbandry and other industrial activity. There are military cantonments being set up.  We are opposed to any move to alter the demographic pattern of these areas," he said.
Referring to the advent of the Tamil militancy, Mr. Sampanthan said he had taken the view that the LTTE was a phenomenon created by the successive governments that failed to address legitimate grievances of Tamil people. He said the LTTE was not created by the Tamil people and added that the country would not have faced this situation if the pacts between S.W.R.D. Bandaranaike and S.J.V. Chelvanayagam and between Mr. Chelvanayagam and Dudley Senanayake were implemented.
In a note critical of the LTTE, Mr. Sampanthan said his leaders were killed by the Tigers, and he too was in their hit list once and expressed his disappointment over the TNA being called an LTTE proxy by the government. (KB)
(For updates you can share with your friends, follow TNN on Facebook and Twitter )