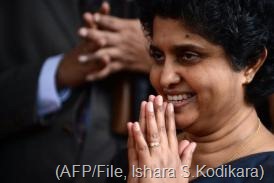 Sri Lanka's Supreme Court ruled Thursday that an attempt by lawmakers to impeach the country's top judge was unconstitutional, in the latest salvo in an escalating battle over the independence of the judiciary.
A select committee charged by parliament to investigate Chief Justice Shirani Bandaranayake found her guilty in December of professional misconduct but the island's apex court ruled that the proceedings had no legal basis.
"The Supreme Court determined that the (committee) had no legal power or authority to make a finding of guilt or a decision affecting the rights of a judge since that is a power that has to be conferred by law and not standing orders," a lawyer with knowledge of the proceedings told AFP, asking not to be named.
The impeachment proceedings have raised international concern that President Mahinda Rajapakse is trying to control the judiciary after crushing Tamil rebels in 2009 and consolidating his hold on power.
The action against 54-year-old Bandaranayake came after she blocked several bills, including one that would have given more power to Rajapakse's brother Basil, the economic development minister.
Bandaranayake, Sri Lanka's first female chief justice, was found guilty of failing to declare nine bank accounts and interfering in a case involving a company from which her sister had bought an apartment.
(For updates you can share with your friends, follow TNN on Facebook and Twitter )