Jaffna born music phenom, Maya Arulpragasam (popularly known as MIA), called the "the most provocative pop star of her age," by the British Guardian, and who played a big role in raising the plight of Tamil refugees, again spoke out for the Tamil asylum seekers in Australia as she landed in the Gold Coast, near Brisbane Australia today to join The Chemical Brothers as one of the headline acts at the Summafieldayze music festival, reports from Australia said. "You know, it's really difficult to work out the future of a minority group [Eezham Tamils] that is considered disposable. Can you just let them in? It's a big enough country….I don't think it's about isolating those people. It's about embracing them because that's the future," MIA was quoted as saying in a local paper.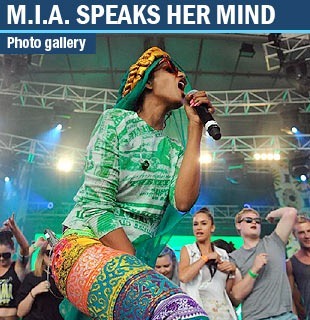 "Trailblazing British-born, Sri-Lankan-raised Tamil graphic artist, painter, director, designer, singer and rapper, philanthropist, activist and mother M.I.A., aka 'Maya' Mathangi Arulpragasam, lands on the Gold Coast today," the report said, and added "I'd much rather take detention in Australia over detention in Sri Lanka because at least you're not going to be killed," the singer said when asked about Australia's policy of offshore processing of asylum seekers.
MIA's next album, titled in reference to her birth name, Mathangi, and a Hindu goddess of wisdom is to be released soon. "It's due in April, which is the Tamil new year — April 15th — and I'm still working on it," MIA told the Goldcoast News.
The Born Free and Paper Planes (Oscar-nominated for the film Slumdog Millionaire) singer said her highly anticipated fourth album, Matangi, the follow-up to her 2010 international hit Maya, is undergoing some improvements to "darken up a bit" as requested by her new label.
Matangi will be M.I.A.'s first album for her new label, Interscope, also home to Madonna.
Fans at her club show at Sydney's Enmore Theatre on Friday night were due to hear the album in full after M.I.A. decided on Thursday she would use the show to get their verdict on the new material.
(For updates you can share with your friends, follow TNN on Facebook and Twitter )