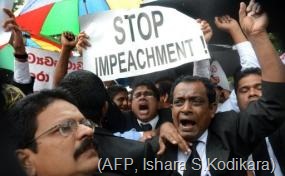 Sri Lankan lawyers Friday urged judges to refuse to accept the appointment of a new chief justice ahead of a vote that is expected to see the incumbent impeached by lawmakers.
The Lawyers' Collective in letters to judges said a move by parliament to go ahead with a vote later Friday to remove Chief Justice Shirani Bandaranayake was illegal as two superior courts had already declared the process null and void.
Any replacement for the current chief justice would be a "usurper", the lawyers said, urging other judges not to welcome a new appointee likely to be named after parliament votes to remove Bandaranayake.
President Mahinda Rajapakse is widely expected to confirm the impeachment of Bandaranayake, the country's first woman chief justice, after Friday's vote in parliament where he commands a two-thirds majority. Only an absolute majority is required for the move to be approved.
The move to sack the top judge has raised concerns for judicial independence in a country emerging from nearly four decades of ethnic war. The US has led international concern for due process in the island.
"Judges should refuse to accept an appointment of chief justice or refuse to recognise any person appointed… as such an appointment would be contrary to the constitution," the Lawyers' Collective said.
"Such a person (new appointee) would be a usurper in the Office of Chief Justice."
The government initially filed 14 charges of financial, professional and personal misconduct against Bandaranayake, 54, but a parliamentary committee convicted her only of three relating to "misconduct".
However, those findings were quashed by courts on Monday. Parliament said it will not accept the court verdicts.
Parliament found her guilty of tampering with a case involving a company from which her sister had bought an apartment, not declaring dormant bank accounts, and staying in office while her husband faced a bribery charge.
Rajapakse has tightened his grip on power after crushing Tamil rebels in 2009 following a major military offensive that sparked international allegations of rights abuses.
(For updates you can share with your friends, follow TNN on Facebook and Twitter )