Referring to the systematic repression and attacks on Eezham Tamil political activists, civil society and students by the Sri Lankan state, the BTF called on the British government to "to exert serious diplomatic pressure on Sri Lanka." Speaking to TamilNet, BTF Coordinator Ravi Kumar said that since the so-called 'independence', concentration of powers in the Sinhalese rulers has systematically increased and that after a successful genocidal war on the Tamil nation in 2009, now all powers in the Sri Lankan state, executive, legislative and judicial powers are concentrated under the President. "Under such circumstances, UK and the International community should not focus on internal mechanism to provide justice to the Tamil Nation. This is the time for the UK government to call for an external mechanism towards an international independent investigation," he added.
The full text of the British Tamils Forum release follows: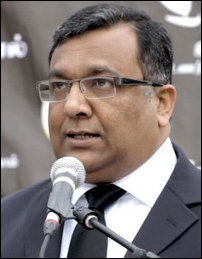 UK must exert serious diplomatic pressure on Sri Lanka Sri Lankan State is systematically suppressing the defiant voice of Tamil people in the Island of Sri Lanka. Continuous attack on University Students, Press and systematic suppression of Tamil political leadership must be stopped immediately.
Jaffna University Students arrests, recent attack on Uthayan Daily News distributer, Sri Lanka's Terrorist Investigation Division's (TID) summons to the leader of Tamil National People's Front (TNPF) Gajendrakumar Ponnambalam and raid on Tamil National Parliamentarian S Shritharan's constituency office were systematic and calculated attacks to suppress the last remaining defiant voices of Tamils in the Island of Sri Lanka.
The British Tamils Forum urges Her Majesty's Government to exert serious diplomatic pressure on Sri Lanka. The last week's impeachment of chief justice has once again highlights the grave dangers of evolving Sri Lankan dictatorship.
University Students were arrested on baseless charges and sentenced to rehabilitation without any legal proceeding or produced in the court of law.
Uthayan paper was under attack several times in the past; journalists have been killed, attacked and abducted.
Members of Tamil political parties have been continuously intimidated in various forms by the Sri Lankan government and its military. Recently on 26 December 2012, TID sent summons to Tamil National People's Front (TNPF) President, Gajendrakumar Ponnambalam, asking him to be present at its investigating office in Colombo on Saturday for inquiries.
Raid on Mr Shritharan MP's office comes after the withdrawal of his office police protection in December 2012 by direct orders from the Defence Secretary Gotabaya Rajapaksa, brother of the President Mahinda Rajapaksa. Despite of various international and local efforts made by the foreign governments and NGOs including the involvement of the British Foreign and Commonwealth office Mr Shritharan's police protection to his office has not been restored.
Mr Shritharan a TNA elected representative of Jaffna electorate narrowly escaped an assassination attempt On 7 March 2011 and yet no one has been charged in relation to this incident. In the past critical Tamil political representatives were assassinated to silence voices exposing the State oppression of Tamils.
International community has to realise the fact that the separation of power doesn't work in Sri Lanka. All the institutions have been brought under the direct control of Executive Presidency. Current developments clearly prove once again that any internal remedying mechanism (Judicial process) cannot work independently. This is akin to asking Hitler to investigate the crimes he committed against Jewish people. This is why; the international community has to establish external investigative mechanism to investigate the war crimes, crimes against humanity and acts of genocide committed in Sri Lanka. Also, the international community should intervene and protect the people to raise their voice in non violent means.
Moreover, we call upon the international community, establishments and Tamil Political organisations to prioritise this fundamental right of 'right to live' before engaging on political efforts with Sri Lanka.
While this is one of the upmost priority, to save the defiant voices of Tamils we should not fall into the Sri Lankan States diversion tactics. Once again we call upon international institutions and the United Nations to immediately pass a Security Council resolution to establish a tribunal to investigate continuous crimes against humanity and the crime of genocide of Tamils in the Island of Sri Lanka.
(For updates you can share with your friends, follow TNN on Facebook and Twitter )