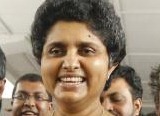 The police security provided to former Chief Justice Shirani Bandaranayake has been withdrawn despite her claims that her life is under threat.
Police spokesman SSP Priyashantha Jayakody said that Bandaranayake was now an ordinary citizen and as such her police security including a police post outside her private residence had been withdrawn.
He said the former CJ had also not lodged a complaint with the police saying she was under threat. The police spokesman added that all former Chief Justices had not been provided with police security. Bandaranayake had on Tuesday said she feared for her life and was forced to quit her official residence because of the threat of violence.
The AFP news agency quoted her as telling reporters from her car as she drove away from the Colombo residence that she also feared for the safety of her husband and son.
"My life is in danger. The lives of all three of us are in danger," she said. "I wasn't even allowed to say my goodbyes to the people whom I worked with at the Supreme Court for over 16 years," she said. In a separate statement to reporters, Bandaranayake said she was still the lawful chief justice because superior courts had already held that her impeachment was unconstitutional and illegal.
"I still am the duly appointed legitimate Chief Justice," she said adding that she was leaving her official residence only because she feared violence. She said she was also prevented from going to courts on Tuesday following threats.
"Since it now appears that there might be violence if I remain in my official residence or my chambers, I am compelled to move out… particularly because violence is directed at innocent people including judges," she said, according to AFP.
By Indika Sri Aravinda
(For updates you can share with your friends, follow TNN on Facebook and Twitter )