The French ambassador in Colombo, Christine Robichon, visiting Jaffna and Mannaar between 07 and 12 of this month, was able to "assess the damages of the trespassing of Indian trawlers on the livelihoods of local fishermen, and the consequences of the use of banned methods of fishing on the environment and natural resources," said a press release of the French embassy in Colombo on Sunday. In her meetings with resettled people, she paid particular attention to the relations between Tamil and Muslim communities. "It is encouraging to see that Tamil and Muslim work together to provide support to all the war affected people in some organizations but it is worrying to perceive signs of communal tensions particularly in Mannar," the press release said citing the ambassador.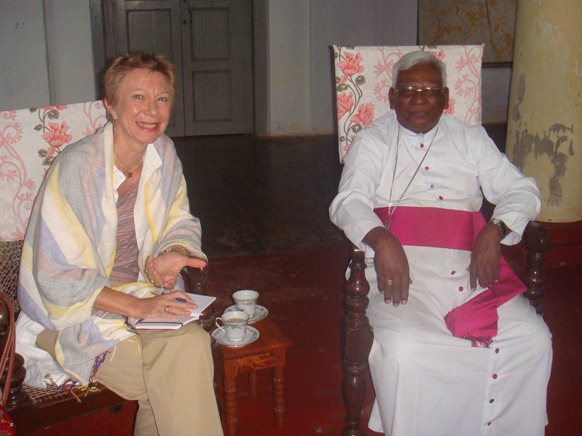 Ms Robichon during her visit met the Catholic Bishops of Jaffna and Mannaar, the VC of the Jaffna University, SL government officials, civil society representatives, the Chamber of Commerce and Industries of Yarlpanam and the civic body in Mannaar.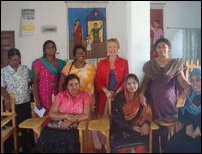 She also met the board of the Alliance Francaise de Jaffna and visited VICJAF fishnet factory, partially funded by France and run by Caritas.
Her visit was to see the progress in 'development' and to "have a better understanding of the needs and aspirations of the people, with a specific focus on the fishermen," said the press release.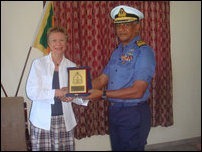 On the conditions of the fishermen, she was briefed by the occupying Sinhala Naval Commander in the North, Rear Admiral Shirantha Udawatta, and by representatives of the SL government and fishing societies and cooperatives, most of which are now controlled by the EPDP, collaborating with Colombo.
Besides the issue of encroachment and environmental damage by Indian trawlers, "the fishermen underlined other difficulties they are facing, particularly restrictions imposed by the Navy," the press release said.
What was strangely missing is any reference to the genocidal encroachment of the Sinhala fishermen into the waters of Eezham Tamils, the environmental damages caused by the trawlers coming from the South with SL military and EPDP protection, Sinhala militarisation of the coastline and demographic and economic genocide of Tamil fishermen by Sinhala colonisation of the coastline, commented media sources in the North that were long covering these issues.
The highlight on the Indian encroachment is one-sided, the media sources said.
Whether the French ambassador couldn't meet any people who could enlighten her on the genocidal dimensions of the issue or whether there is any deliberate effort by France to altogether shield that dimension to save the genocidal Sinhala State in the island, the media sources in Jaffna asked.
PDF: Press statement by the French Embassy
(For updates you can share with your friends, follow TNN on Facebook and Twitter )