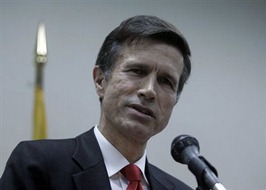 Blinded by the 9/11 terror and impelled by the perceived need for swift action against "terrorism," the US-led International Community, made two serious miscalculations in Sri Lanka war: By allowing unhindered space for Sri Lanka's final military thrust, they misjudged Sinhala society's willing capacity to inflict bestial, savage crimes on fellow human beings; and the IC's belief that, once the Tigers are eliminated Rajapakses will "fill in the gaps" and provide an acceptable political solution, has been shown as embarrassingly flawed. Now, as the IC savors the dystopian-monster they created, the need to whitewash the atrocities by side-stepping accountability, and to focus on development, appear to be driving IC's actions. Tamils, now left defenseless, hold Ambassador Blake, as the key US official who shaped the US policy on Sri Lanka's war, responsible for the tragedy.
Seeds for U.S. State Department's policy for containing the military growth of the LTTE were sown in 1997, when the LTTE was added to the U.S.'s list of Foreign Terrorist Organization (FTO). Richard Armitage as the Deputy Secretary of State (2001-2005) then laid the early foundation for direct action against the LTTE, by mooting the "Contact Group," some time after the donor co-chairs were founded in 2003 under Tokyo's leadership.
U.S. embassy in Delhi, where Blake was serving as Deputy Chief of Mission under Ambassador David Mulford, and Lundsted in Sri Lanka, believed that the Indian bureaucrats were in agreement with them in getting Sri Lanka's President Mahinda Rajapaksa to "fill in the details of a political solution to deflate LTTE claims that the GOSL [Government of Sri Lanka] was ignoring Tamil aspirations — and working to cut off LTTE access to weapons and money."
While Armitage has been generally hostile to the LTTE, during his tenure there were indications that the U.S. policy towards the LTTE was soft, the U.S. appeared to accept the LTTE as a key stake holder, and while the LTTE remained proscribed, encouraged a political solution to meet the key demands of the Tamils.
Blake's involvement may not have been significant during the Armitage period, but, with Blake's appointment as Ambassador to Sri Lanka in 2006, Blake took a visibly harder line towards the Tigers, Tamil activists point out. Blake was likely influenced by India's anti-LTTE stand, built close friendship with Colombo, and engaged the contact group with maximum impact that resulted in the incarceration of several key diaspora activists and created a chilling effect that severely damaged diaspora involvement in humanitarian and other matters related to the NorthEast, Tamil circles point out.
Member countries of the contact group, Canada, UK, US, France, Germany, Netherlands, and Australia among other countries, starting in 2005, arrested scores of Tamil activists on "material support" charges. The arrests have continued even after the LTTE leaders were killed.
India's own culpability as a silent spectator to the completed battle-field genocide, and the currently unfolding systemic cultural genocide, is even more sinister, TamilNet editors note. India's pretense as a regional super power also constrained U.S.'s independent actions in Sri Lanka, and served as another deterrent to Colombo's aquiesense to Tamil demands.
Blake's detailed knowledge of Rajapakse crimes while he was ambassador in Colombo, has been established by several leaked memos.
PDF: Blake's interview, says 75000 IDPs
In January, number of civilians who remained in the LTTE controlled territory: GoSL said 70K, UN said 200k, and Tamil sources said more than 300k. Ambassador Blake quoted 300k civilians trapped behind LTTE lines, and confirmed GoSL's intention to use food as an incentive to extract people out of LTTE area.
By February Blake, in consultation with the Indians, had lowered the IDP figure to around 75,000. This was the figure adopted by the GoSL and also the figure quoted by the Indian Foreign Minister Mukerjee in the Indian Parliament.
Blake's continued silence on the culpability of Rajapakses, two of them US citizens, and his post-war posturing in advising diaspora groups to pursue the development and reconciliation approach with Colombo, have further diminished his credibility among diaspora activists leading many to believe that Tamils are unlikely to obtain justice and accountability under Blake's tenure.
PDF: Report of the Secretary-General's Internal Review Panel on United Nations action in Sri Lanka
Blake's policy has wrought havoc to Sri Lanka's Tamils. Petrie Report summarizing the "crime of the century" said "an estimated 360,000 or more civilians were crowded into an ever smaller part of 'the Wanni' area of Northern Sri Lanka where many died as a result of sustained artillery shelling, illness and starvation. Almost 280,000 survivors were forcibly interned in military-run camps outside," implying more than 80,000 civilians may have been killed in the Mu'l'livaaykkaal massacre.
Blake continues to feign ignorance of on-going cultural genocide of Tamils, as he avidly promotes reconciliation and development, and urges expatriates to work with the alleged genocidaires ruling Sri Lanka to develop the NorthEast, Tamil activists say.
Finally Blake's bluff was called, and his decade long Sri Lanka policy was thrown into the dustbin of history, when, as Rajapakse "ruled out granting Tamils of the North any political autonomy," during Sri Lanka's Independence day 2013, Blake response was deafening silence.
(For updates you can share with your friends, follow TNN on Facebook and Twitter )