UN High Commissioner for Human Rights, Navaneetham Pillay, in an e-mail interview with Sunday Times, held steadfastedly to her belief that since the steps Sri Lanka has taken domestically has not inspired confidence, an International investigation into the crimes committed by both adversarial parties was essential for accountability, and to reconciliation. High Commissioner Pillay remained focused on the need to establish the truth of what happened during the final months of war while fending off the journalist's leading questions, and infused a fresh determination to establish accountability to the otherwise stiffling inaction of other International actors, Tamil political observers noted.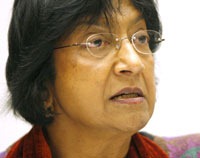 When asked why there is a need for another resolution [UNHCR] when the first one had "little impact," Pillay explained that "it is not that the resolution had little impact", but that the "Govt. [Sri Lankan] has made little progress in pursuing true accountability and reconciliation measures."
On the journalist's statement of Colombo's position that "such resolutions are impediments to reconciliation and its domestic programmes," Pillay said, while LTTE is a brutal organization, "[i]t is, nevertheless, important to address all situations where there have been massive HR violations, so that they are not brushed under the carpet….It is hard to see how real reconciliation will be possible, if the truth is not told, and if justice is not seen to be carried out.
On Navi Pillay "overreaching her mandate in expressing concern over impeachment of the Chief Justice," Pillay responded that her mandate is to "protect and promote the HR of everyone everywhere."
On the importance of calling for international war crimes investigation, Navi Pillay replied,
Because tens of thousands of civilians were reportedly killed. Because there are very credible allegations and some strong pictorial evidence and witness accounts indicating that war crimes and other serious international crimes, including summary executions, use of child soldiers and the use of civilians as human shields took place on a large scale.

These are crimes that are viewed with the utmost seriousness under international human rights and humanitarian law, and there is plenty of evidence to suggest both sides committed them. Unfortunately, none of the steps taken domestically in Sri Lanka, to investigate any of this, inspire confidence. There is a long history of national inquiries in Sri Lanka that have led nowhere, but to impunity. This makes such an international investigation essential. Crimes like these cannot simply be ignored or pushed aside. If there has been exaggeration or distortions, or unjust allegations, then such an inquiry should also expose those. There has to be justice, if there is to be lasting peace.
When Sunday Times mentioned that "perhaps there is little appetite for an investigation," because the war ended 3 years ago and there are several other crises in the world, Pillay's response was that "there is actually increasing appetite, as people start to see more details of what happened."
When prompted to comment on the "little local interest" in war crimes investigation, Pillay replied, among other factors, "Tamil population in Sri Lanka, especially in the war-affected parts of the country, must be treated fairly. They went through a quite atrocious experience. Crimes committed against them must be investigated, just like crimes committed by the LTTE."
Sunday Times mentions a curious form of "torture." The HRC is genuinely accused of double standards vis-a-vis Sri Lanka, and some other pro-Western countries (for instance, Saudi Arabia, Bahrain, Yemen, Occupied Territories). Is this exercise merely to inflict continuing diplomatic torture on Sri Lanka, until they fall in line with the West?, the Times asks.
Pillay points out that "None of the countries mention[ed] has gone through a conflict like the one in Sri Lanka."
When Sunday Times asks if there is an "orchestrated conspiracy" against Sri Lanka, and whether this is fair, Pillay cautions the journalist not to confuse conspiracy with campaigns. And adds, "I am not at all surprised that there are campaigns being carried out by HR activists, for all the reasons we have discussed already. This is a symptom of the fact that there has not yet been a proper independent and credible investigation into all the HR violations that took place during the conflict, with the aim of bringing sorely needed justice and reparations."
Sunday Times then claims that the State "has engaged with the UN system consistently and transparently," and hence expects reciprocity, Pillay's reply implies that her engagement with Sri Lanka has been more than satisfactory.
When asked why UNHCR's approach to Sri Lanka is not cooperation but confrontational, Pillay replies that she looks for "cooperation with all govts., but, at the same time, my mandate also involves acting as the voice of the victims, and speaking out when needed."
External Links:
ST:
Govt. efforts at investigating alleged war crimes lack credibility: NP
(For updates you can share with your friends, follow TNN on Facebook and Twitter )