Even as Tamils across the world are anticipating yet another watered down resolution on Sri Lanka at the forthcoming Geneva session this year, a group of Eezham Tamil youth activists from the UK have undertaken a journey on a 'Tamil Van' to reach out to the Tamil diaspora across Europe and also to interact with European civil society activists, solidarity groups and politicians, to raise awareness of the protracted genocide of the Tamil nation and the need for a corresponding just political solution. The Van, which began its journey from London on 12 February, is currently in Germany and will finish its tour at Geneva coinciding with the UNHRC sessions. Appealing to Tamils not to fall for any watered down resolution, the activists undertaking the tour stated that any solution which does not address the genocide of the Eezham Tamil nation was a farce.
"Tamil Van" in Hanover , Germany
Speaking to TamilNet from Osnabruck, Germany, Gobi Sivanthan, grassroots Eezham Tamil activist from the UK and leading the Tamil Van journey, opined that the US and India and other countries were going to give one more year to complete the genocide of the Eezham Tamil nation through the ruse of the LLRC.
"We are trying to appeal to the democratic voices and people of Europe to push for an independent international investigation to get justice for the genocide of the Eezham Tamils. We have also appealed to the Tamil people to be wary of establishments and certain NGOs that are only pushing for regime change while diluting the question of sovereignty of the Eezham Tamil nation," he said.
Departing from Harrow, London on 12 February, the Tamil Van travelled to France, Holland, Belgium, Luxembourg and Germany. Scheduled to leave from Germany on the 28th, the Van shall further visit Austria and Italy, before culminating its travel in Geneva, Switzerland.
The Tamil Van has met 5 European MEPs, 13 diplomats, human rights activists affiliated with different political parties, and numerous solidarity activists in the countries they have visited till now.
Left groups in Germany, the SPD and the Linke, expressed solidarity with the Tamil Van.
In Germany, TYO Germany and VETD assisted the Tamil Van with leaflets, public campaigns, by arranging meetings with the Tamil community in every city, and with the mobile exhibition with photos of the Tamil genocide.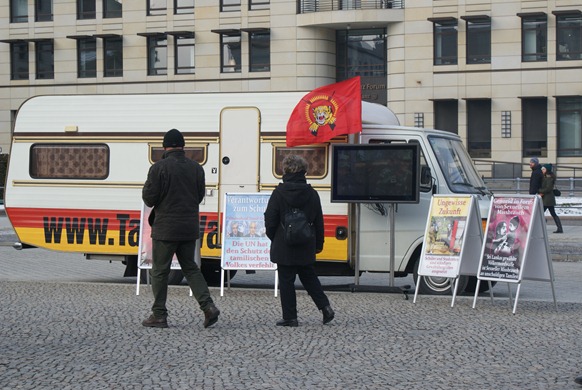 "Tamil Van" in Berlin, Germany
(For updates you can share with your friends, follow TNN on Facebook and Twitter )