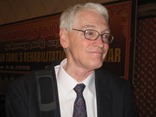 Professor Boyle, an expert in International Law and who represented nearly 40,000 raped Women of Bosnia and argued their case for genocide before the International Court of Justice (ICJ) in The Hague, commenting on the Human Rights Watch (HRW) report, "Sri Lanka: Rape of Tamil detainees," said, "[c]learly, this continuing Campaign of widespread and systematic rape by the Government of Sri Lanka against the Tamils violates Article II(b) of the 1948 Genocide Convention, to which Sri Lanka is a contracting party."
The relevant part of article II states:
"In the present Convention, genocide means any of the following acts committed with intent to destroy, in whole or in part, a national, ethnical, racial or religious group as such:
…
(b) Causing serious bodily or mental harm to members of the group;…."
According to Article I of the Genocide Convention, all of the Contracting Parties thereto (which includes most of the civilized word) "undertake to prevent and to punish" these acts of genocide against the Tamils by the GOSL, Professor Boyle said, and asked, "Where is the United Nations Security Council? Its Permanent Members? The United States, Britain, France, Europe and India? The U.N. Human Rights Council?
"The United Nations Secretary General? And his Special Advisor on the Prevention of Genocide?
"They are all derelict in their duties under the Genocide Convention and the jus cogens customary international law obligations "to prevent and to punish" the ongoing GOSL genocide against the Tamils. They have all become Accessories After The Fact to the GOSL genocide against the Tamils in violation of Article III(e) of the Genocide Convention that criminalizes their "(e) Complicity in genocide,"" Professor Boyle said.
As the Lawyer for the Republic of Bosnia and Herzegovina during Yugoslavia's War of Extermination against the Bosnians, Professor Boyle represented raped Women of Bosnia, and won two World Court Orders of Provisional Measures of Protection overwhelmingly on their behalf on 8 April 1993 and 13 September 1993 against Yugoslavia to cease and desist from committing all acts of genocide against them and against all the other Bosnians on the basis of the 1948 Genocide Convention. Details can be found in Professor Boyle's book "The Bosnian People Charge Genocide!" (1996), (Amazon.com).
(For updates you can share with your friends, follow TNN on Facebook and Twitter )