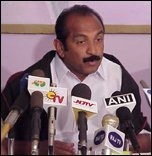 Stating that only an internationally monitored referendum among Eezham Tamils for an independent state of Tamil Eelam and an independent international investigation into genocidal war crimes of Sri Lanka would provide justice, MDMK leader Vaiko, in a statement on Wednesday asserted that the upcoming US resolution at Geneva falls drastically short of providing any justice to the genocide-affected nation of the Eezham Tamils. In the statement Mr. Vaiko also criticized political parties in India for holding up the US resolution as an appropriate step forward. Separately, protests against Sri Lanka have been intensifying across Tamil Nadu.
Stones were pelted at the Madurai office of Mihin Lanka, a Colombo based airline, the PTI reported on Wednesday.
Earlier this week, the DMK backed TESO staged a protest in Chennai urging India to support the US backed resolution in Geneva.
However, numerous Tamil activists in Tamil Nadu expressed discontent at the politics of this protest, arguing that the DMK should note that the US resolution is only going to give more time to Sri Lanka to complete its structural genocide of the Eezham Tamils through the LLRC, sources from Chennai told TamilNet.
There is also a session scheduled in the Indian Lok Sabha on Thursday to discuss the issue of the Eezham Tamils.
(For updates you can share with your friends, follow TNN on Facebook and Twitter )