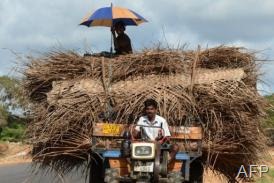 India has called for "reconciliation" talks between Sri Lanka and its Tamil minority as it faces pressure to back a US motion at the UN demanding Colombo probe alleged army atrocities during the island's civil war.
The United States has said it will place a motion before the UN Human Rights Council this month demanding an account of the final days in 2009 of the bloody conflict and pressing for all Sri Lankans to enjoy full human rights.
The Colombo government must "take the initiative to talk to the Tamil leadership in Sri Lanka", Prime Minister Manmohan Singh said in a speech posted on his website on Saturday.
Singh's embattled Congress government is backed by a powerful Indian regional Tamil party which is pressing India to support the resolution as it did a similar US motion last year calling for a credible investigation into alleged war crimes.
Singh, whose government is wary of alienating Sri Lanka's President Mahinda Rajapakse and hurting its commercial interests on the island, where rival China has made big inroads, kept mum on whether India will back the US motion.
But the prime minister warned that "without national reconciliation, the situation cannot remain calm" in Sri Lanka.
India, the regional power and a traditional ally of Sri Lanka, is "worried about the fate of Tamil people" on the island, Singh told parliament on Friday.
Sri Lanka has been accused of killing as many as 40,000 civilians in 2009 in a final offensive that defeated the Tamil Tigers, who waged a decades-long insurgency and were also criticised for brutal tactics such as suicide bombings.
Human rights groups add that Sri Lanka's minority Tamils are yet to enjoy equal political freedoms four years after security forces crushed the separatist rebels.
(For updates you can share with your friends, follow TNN on Facebook and Twitter )