Tamil Nadu Chief Minister Ms. Jayalalithaa in a letter addressed to Indian Prime Minister Dr Manmohan Singh on Monday, demanded India to "strengthen" the US resolution tabled at Geneva by including an "unequivocal call for a credible, independent, international mechanism to prosecute genocide, war crimes and war criminals." She wanted the process, including bringing the responsible for trial before an International Court, to be completed within six months for reporting at UNHRC next March. The CM, implying an international interim setup, has also urged India to modify the resolution so that Sri Lanka has to accept an international institution to act on reconciliation coupled with "a pragmatic political package," making Tamils equal citizens on par with Sinhalese. However, her outlook for solutions was based on a 'Sri Lankan Tamil minority' framework.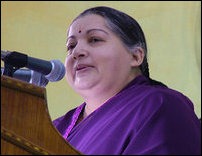 Concluding her letter, the Tamil Nadu Chief Minister was hoping that "at this historic moment, the Government of India will decisively step forward […] and take a bold step in support of the much discriminated and long suffering Tamil minority in Sri Lanka […]."
After being the first in India in officially and boldly recognizing the genocide, rather than righteously leaving the model of solution to the affected party to decide through application of self-determination and referendum, Ms. Jayalalithaa harping on the theme of 'Tamil minority and equal rights on par with Sinhalese' is contradictory to the long realities in the island and is disappointing when comes from the office of the Tamil Nadu Chief Minister at this historic juncture, commented Eezham Tamil activists in the island.
PDF: Full text of Tamil Nadu CM's letter to Indian PM
(For updates you can share with your friends, follow TNN on Facebook and Twitter )