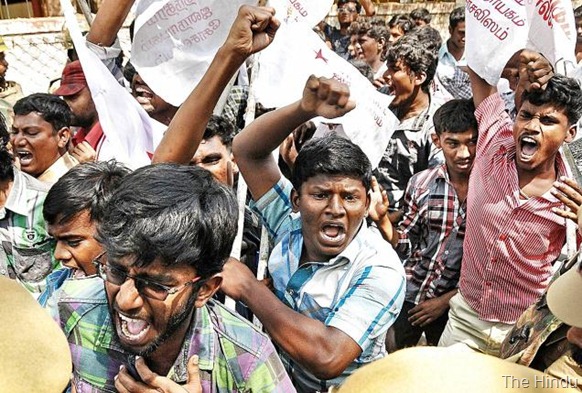 Protests over the Sri Lankan issue intensified on Tuesday with more students joining the agitation. However, the protests were peaceful in the city and the rural areas.
While High Court and district court lawyers laid siege to the Bharat Sanchar Nigam Limited office at Tallakulam, members of the Students Federation of India picketed the Post Office in front of the Collectorate, giving tense moments to the police personnel. Traffic was disrupted temporarily at Tamukkam junction as lawyers staged a demonstration before they moved towards the BSNL office.
Though the gates of the BNSL Customer Service Centre were locked, to keep the agitators from entering the premises, a few advocates jumped over the compound wall. The protestors, owing allegiance to the Madurai Bench High Court Advocates' Association and the Madurai Bench of Madras High Court Bar Association, demanded a referendum for Sri Lankan Tamils on the question of autonomy.
Even after the indefinite closure of engineering and arts and science colleges, students continued to gather at different places in the city and rural areas to express their protest against the Centre and Sri Lankan President Mahinda Rajapakshe.
A group of students, affiliated to the Students' Federation of India, tried in vain to break through the police cordon in their attempt to lay siege to the Gandhi Nagar post office. However, the strong posse of police overpowered them. The students sought an independent probe into the alleged human rights violations in the island nation. The Centre should move the United Nations Human Rights Council to provide basic amenities to the Tamils living in camps.
Some 50 students belonging to various engineering and arts colleges observed a one-day hunger strike in front of American College, seeking Tamil Elam and declaration of Mr. Rajapakshe as a war criminal.
Students of the Centre for Plastic Engineering Technology took out a procession from their college to the Collectorate to hand over a memorandum on the issue.
K.A. Mohan, a functionary of Mallar Kazhagam, and Solai. Palanivelrajan, of Mallar Nadu, too observed a hunger strike in front of the Tamukkam ground. Hunger strikes were staged by cadre of the Viduthalai Chiruthaigal Katchi, the Manitha Urimaikkana Kudimakkal Iyakkam and the Tamil Tamilar Iyakkam.
(For updates you can share with your friends, follow TNN on Facebook and Twitter )