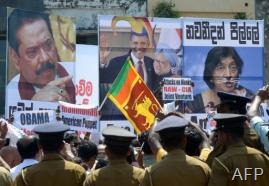 Sri Lankan state media called Friday for the dismantling of the UN human rights chief's office after Colombo was angered by a resolution calling for a probe into alleged war crimes in the island.
A ruling coalition partner also urged Colombo to reconsider ties with nations that supported Thursday's censure move at the UN Human Rights Council (UNHRC) in Geneva.
The US-initiated move was passed with the support of 25 nations, including Sri Lanka's immediate neighbour India.
The Council pressed Colombo to "credibly investigate widespread allegations of extrajudicial killings and enforced disappearances" and noted Sri Lanka had failed to adequately address serious charges of war crimes.
The state-run Daily News, reporting the vote under the headline, "Sri Lanka rejects intrusive resolution," said the Office of the High Commissioner for Human Rights should be dismantled.
"Sri Lanka should spearhead that demand with the support of like-minded countries," the paper said.
"India joins USA to beat SL," the privately-run Daily Mirror said on its front page referring to New Delhi's support for the resolution urging accountability over Sri Lanka's military action that crushed Tamil Tiger rebels in May 2009.
Rights groups have said up to 40,000 civilians were killed by security forces in the final months of fighting, a charge denied by Colombo.
Technology Research and Atomic Energy minister Champika Ranawaka in a statement urged the government not to grant trade concessions to Indian business interests after Thursday's vote.
"We strongly urge the government not to grant any trade or diplomatic concessions to India which does not respect our sovereignty," said Ranawaka who leads the National Heritage Party.
However, the privately-run Daily FT of Colombo cautioned the government against stalling reconciliation and attracting more international criticism.
(For updates you can share with your friends, follow TNN on Facebook and Twitter )