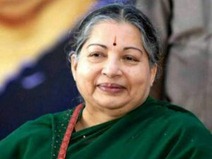 Tamil Nadu chief minister J Jayalalithaa has called for a referendum among Sri Lankan Tamils on the formation of a 'Separate Eelam' (Tamil land) within Sri Lanka. The referendum, she said, should be held for the sake of their future welfare. "The referendum should be conducted among Tamils in Sri Lanka and other displaced Tamils across the world. A resolution should also be adopted in the UN security council in this regard," she told the assembly.
Political parties in Tamil Nadu have been vying with each other to raise the pro-Tamil rhetoric. While, the ruling AIADMK's latest demand is seen as a move to take centre stage on the Eelam issue, the DMK decision to quit the Union government and the UPA for its failure to get a stronger resolution moved in the UNHRC against Sri Lanka, is also seen as political one-upmanship.
Moving a resolution in the House on Wednesday, chief minister Jayalalithaa said there should be an impartial, international and independent probe for the alleged war crimes and genocide in Sri Lanka. "Based on this investigation, those found guilty should be tried in the international court of law and punished," she said. Urging the Centre to stop calling Sri Lanka a friendly nation, the chief minister said the Congress-led UPA government should impose economic sanctions until the Sri Lankan government stops atrocities against Tamils living there.
Jayalalithaa urged students, who have been protesting against alleged war crimes against Sri Lanka, to give up their agitation keeping in mind the state government's efforts to secure victory on the issue. "Our efforts will fructify very soon", she said.
(For updates you can share with your friends, follow TNN on Facebook and Twitter )