The occupying Sri Lanka Army, which is busily transforming the former High Security Zone (HSZ) in Valikaamam North in Jaffna into a Sinhala Military Zone (SMZ), turned away a delegation led by SL opposition leader Ranil Wickramasinghe on Thursday evening, denying them access to visit the area and witness the scale of the land acquisition. In the meantime, Tamil National Alliance (TNA) parliamentarian Suresh Premachandran told the visiting UNP leader to voice for the rights of the uprooted people of Valikaamam North.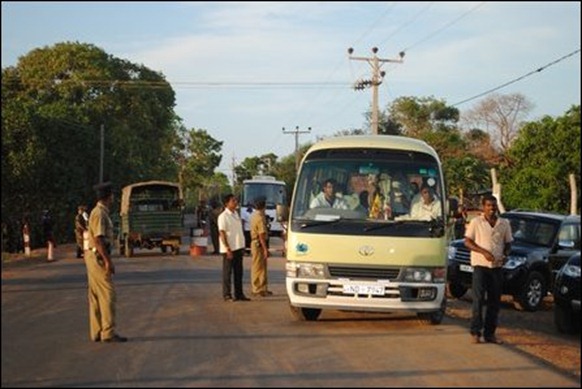 The vehicle carrying Ranil Wickramasinghe was turned away at the entry to the Sinhala Military Zone (SMZ). Mr Wickramasinghe didn't get down from the vehicle or question the SL military at the checkpost, according to the eyewitnesses at the site.
Conducting elections to the Northern Provincial Council, under the prevailing circumstances of SL military interference in the civil and political affairs in North would be a mockery of democracy, Mr Premachandran has said.
Twelve entire divisions of SL military are deployed in Vanni alone. The SL military is engaged by the SL government to harass political parties that are not in their UPFA alliance. The military also engages in attack on media and activists. Lately, it has even gone to the extent of wooing candidates for the UPFA, the TNA parliamentarian told Mr Wickramasinghe.
Mr Premachandran was campaigning for the presence of an impartial international monitoring mechanism at least two months ahead of the PC elections.
Mr Premachandran also urged the UNP leader to address the crucial issue of resettlement of people in Valikaamam North, the area that is being permanently seized by Colombo for the SL military.
Meanwhile the organisation representing the interests of the uprooted people of Valikaamam North has requested the people, who had been invited by the SL military, not to place their signatures on any papers, as there is a danger of SL military forging documents.
The people who were called up to identify their lands, had been instructed to come to the boundary of the HSZ, along with the deeds and any other documents pertaining to their lands.
(For updates you can share with your friends, follow TNN on Facebook and Twitter )