National Book Trust of India (NBT), a publications outfit of the New Delhi Establishment had entrusted the editorship of an anthology of 'Sri Lanka' poetry to the well-known defender of the genocidal State, Prof Rajiva Wijesinha. New Delhi's External Affairs Minister Salman Khurshid ceremoniously received the book presented by the editor recently. The book "Mirrored Images" will be launched in Toronto, Canada, on Friday at a function jointly organised by Colombo's High Commission in Ottawa and Consulate General in Toronto. Prof Chelva Kanaganayakam of the University of Toronto will deliver the keynote address at the event, the Sri Lanka High Commission invitation to select audience said.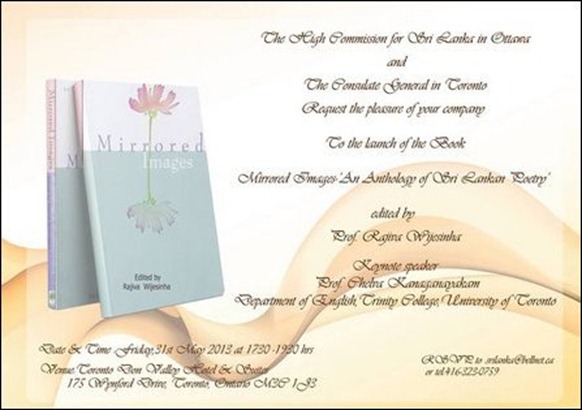 Prof Rajiva Wijesinha, as Permanent Secretary to the Ministry of Disaster Management and Human Rights of Sri Lanka, was in the forefront as spokesperson engaged in denying the war crimes committed by the genocidal State. In 2010, he was a candidate in Mahinda Rajapaksa's UPFA alliance and was appointed as a national list member of Sri Lanka's Parliament. In 2011, he was also appointed as adviser on Reconciliation to Mahinda Rajapaksa.
The NBT anthology entrusted to his editorship contains poetry written originally in English, Sinhala and Tamil.
"I have noted similarities, simply because I think it is important to note what we all have in common. Remarkably, none of the poetry suggests the animosities that have obviously existed at all levels of society," Ceylon Today cited Prof Wijesinha speaking on the anthology.
"Good writing shares certain values that transcend differences that are seen as contingencies. In recognition of that, I hope that this volume contributes to the development of a common Sri Lankan identity," Ceylon Today further cited Prof Wijesinha.
With all what had happened and with all what is practically taking place, a common 'Sri Lankan' identity is just the other word for ultimate structural genocide, commented diaspora activists in Canada.
There was a time when Eezham Tamil poetry anthologies, many of them published in Tamil Nadu, were the inspiration for the liberation movement. Now New Delhi takes up the mission of coming out with 'counter anthologies' and publications to simulate a common 'Sri Lankan' identity for the genocidal State it is partnering with, the activists commented further.
A leading Eezham Tamil poet told TamilNet that when approached by New Delhi's National Book Trust, he didn't give permission to them to include his poetry in the anthology edited by Rajiva Wijesinha.
(For updates you can share with your friends, follow TNN on Facebook and Twitter )