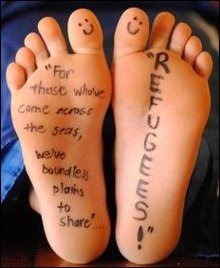 Hundreds of Tamil refugees, including several hundreds who have been declared as "Mandate" refugees by the United Nations High Commission for Refugees (UNHCR) in compliance with the UNHCR Charter and associated statutes, are languishing in camps in East Asian countries, and recently in Dubai, while Australia, Canada, New Zealand, the Netherlands, the Nordic countries (Denmark, Finland, Norway and Sweden) and the U.S., which have traditionally admitted mandate and convention refugees, are denying resettlement to many of these refugees. Australia, which is one of the contracting countries with UNHCR, is even keeping in detention, citing security threat, Tamil boat refugees who have been granted asylum.
New Zealand has routinely rejected applications for admission and resettlement of Tamil "mandate" refugees, even while the quotas for UNHCR recommended refugee intakes were not exceeded, published documents show. While individual states can reach independent determination of the refugee status based on the 1951 UN Convention and 1967 protocol, "convention" refugees, legal sources say, the differences are relatively few resulting in differing determinations.
"The rejection rates in Australia and New Zealand are increasing, advocates of humane resettlement policy in both countries say. While Australia, collaborating with Colombo whose alleged genocidal crimes in Mu'l'livaaykkaal drove Tamils to flee Sri Lanka, repatriates many potential Tamil refugees while being accused of violating non-refoulement guidelines of the U.N., New Zealand silently rejects Tamil Mandate refugees even when UN-agreed quotas have not been exceeded and the refugees pose no risk to security," Tamils Against Genocide (TAG), a US-based rights group earlier said.
TamilNet recently obtained a letter written by the Office of Hon Kate Wilkinson, member of cabinet who held the portfolio of Immigration (before being removed by Prime Minister John Key) in response to a query by a NZ MP. The MP wrote to the Minister on behalf of a local New Zealand Tamil with regards to a rejected Tamil asylum claimant who was alleged to be a member of the Liberation Tigers. Full text of the letter follows:
"There is no blanket government policy which requires that those associated with the Tamil Tigers be declined a visa or banned from entering New Zealand.
The individual we discussed may be caught by Immigration New Zealand (INZ) policy which requires that individuals who pose a risk to New Zealand's international reputation be declined a visa.

When assessing whether Sri Lankans associated with the Tamil Tigers pose such a risk, INZ considers the level of association a person has had with the organisation on a case-by-case basis."

An activist closely involved with helping Tamil refugees told TamilNet, "studying the cases of Tamil refugees rejected by New Zealand and other countries mentioned here reveals an intriguing pattern. These countries appear to readily accept Tamil refugees who have had affiliations with Tamil militant groups that were working against the LTTE and those who have had very limited association with the LTTE. These same countries have consistently rejected Tamil refugees who have had long associations with the LTTE even when the association is non-military.
"Indeed one of the single mothers rejected was the wife of a well known civilian journalist who was killed by artillery fire in 2008 in Vanni. Her application has been rejected by Finland, Netherlands and New Zealand.
"It's ironic that people who are the most vulnerable to Sri Lanka's beastly methods of torture are the ones the liberal West is unwilling to provide sanctuary," the refugee worker added.
Further, the Director of Deakin University's Centre for Citizenship, Development and Human Rights, Professor Damien Kingsbury, has pointed out that the Australian Security Intelligence Organization's (ASIO's) investigations on the eligibility of Tamil refugees "bore the hallmarks of an anti-Tamil campaign being directed by the Sri Lanka government."
As seen, the discretionary powers afforded to the NZ Minister involves assessing if the claimant posed a risk to NZ's "international reputation," a overly broad-power, leaving a refugee with well-founded fear of persecution at his country of birth and left homeless in a foreign country, according to legal analysts in Washington.
"Only sustained media exposure of the fate of the "mandate" and "convention" refugees by the rejecting contracting countries, including legal action for possible violation of international law, will pressure these countries to be more sympathetic in accepting additional refugees," TAG added when queried on the asylum progress.
TAG has followed the plight of Tamil refugee families stranded outside Sri Lanka. Summary of refugees whose details are available with TAG follows:
Plight of Tamil Mandate Refugees languishing in detention camps in Thailand, Malaysia, Indonesia
Family ID, Number of members, Mandate Refugee Status, Rejected for resettlement by
A
Family of 5
Yes
New Zealand, Finland
B
Mother and Child
Yes
Holland
C
Mother and Child
Yes
New Zealand
D
Single Male
Yes
New Zealand, Norway, Sweden, Finland, Canada, Holland, Denmark
E
Single Male
Yes
New Zealand, Finland, Holland
F
Single Male
Yes
USA, Finland
G
Family of 5
Yes
New Zealand
H
Mother and Child
Yes
New Zealand
I
Mother and Child
Yes
New Zealand
J
Mother and Child
Yes
New Zealand
K
15 including two families
Some
Held in Dubai; Rejected by Sweden, Holland, Finland
L
50+ Boat refugees
Yes
Given asylum but kept in detention in Australia
TAG-UK has been pro-active in critically questioning the policy documents of the UK-Border Agency, and has achieved legal rulings favorable to refugees by showing many Tamil returnees have been tortured, and that legal pro-Tamil activity in the UK can result in persecution by Sri Lanka authorities.
Non-contracting countries, and countries which use allowed temporal or geographical limitations, can deny Convention status to mandate-refugees, legal sources say.
In addition to the earlier mentioned Western liberal democracies, Argentina, Brazil, Chile, Iceland, Ireland and the U.K. have also joined the U.N. program offering resettlement in the last decade. Since 2007, 13 new countries, Bulgaria, the Czech Republic, France, Germany, Hungary, Japan, Paraguay, Portugal, Spain, Romania and Uruguay, have added their names to the UN's resettlement list, according to published UNHCR documents.
(For updates you can share with your friends, follow TNN on Facebook and Twitter )