Tamil National Alliance MP C Yogeswaran on Sunday demanded that immediate steps be taken to stop the aggressive and meticulously planned sinhalicisation of Punaanai East, situated 52 km northwest of Batticaloa city. During the times of the LTTE, the presence of the Tiger forces from Kudumpimalai in the South to Vaakarai in the North had thwarted the earlier attempts of sinhalicisation. In the absence of LTTE, sinhalicisation is now rapidly taking place along Batticaloa and Polonnaruwa border, where Punaanai is situated. Besides occupation of Sinhalese families, Punaanai has also witnessed various instances of Sinhalicisation including the statue of the Chief deity of a Pi'l'laiyaar temple going missing and demolition of Saivite temples under the guise of archeological excavations.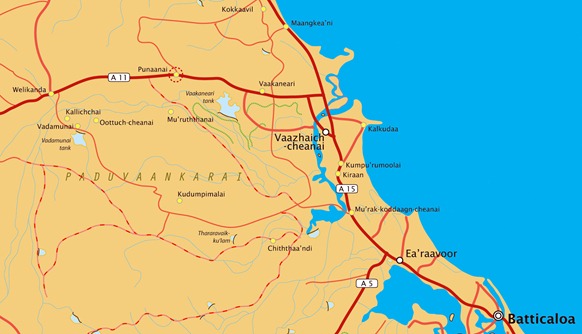 The location of Punaanai. Click to enlarge the map [Map by TamilNet]
Mr Yogeswaran has made the above demand in a letter sent to SL Government Agent of the district in which he has also alleged that a meticulously planned sinhalicisation is being carried out in Punaanai East which comes under Koa'ra'laip-pattu North (Vaakarai) DS divison.
Aided by the military camp in Punaanai East and guided by a Sinhala monk who has recently constructed a vihara, many Sinhala families have been made to systematically settle down in the area.
It may be noted that a mere five Sinhala families existed in Punaanai prior to 1988. These families too had relocated to a Sinhala settlement called Kadawata out of fear of war. Besides being beneficiaries of land and houses from the SL government, these families have also been availing monetary assistance from Colombo government for over two decades. Of these, two families have sold their lands and have relocated elsewhere.
Under the circumstances, a Buddhist monk ostensibly claiming that there was a small Buddha Vihara in the area, constructed a lavish Vihara on Colombo-Batticaloa main road on A4 highway ahead of a Pi'l'laiyaar temple. The monk also made it his permanent residence.
The sinhalicisation is a planned activity of the SL State, the above mentioned monk and is aided by the SL military. The TNA MP has demanded the SL government to stop the sinhalicisation with immediate effect.
The MP has also demanded that the Indian consulate provide houses to the Tamils living as IDPs in Vaazhaich-cheanai and other villages, adding that his party was pushing for measures to resettle them.
The people have expressed concerns over settling in the area, owing to the presence of the military camp.
Alleging that a few months ago, some Sinhalese men were roaming with an intention to sexually harass Tamil women, the Tamils living in the area said they continued to face problems when trying to counter such behavior of the Sinhalese.
(For updates you can share with your friends, follow TNN on Facebook and Twitter )