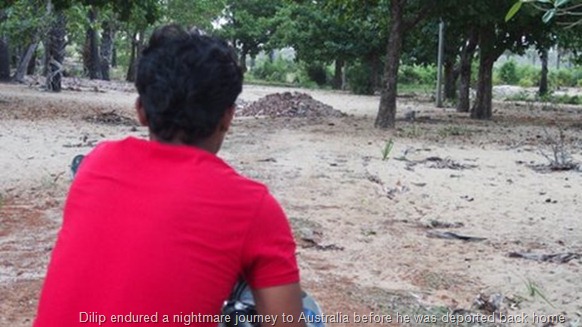 On a beach in the midday breeze fishermen stitch their nets and smoke, waiting for the wind and weather to turn favourable.
But by night such beaches have witnessed something different: the departure of boats crammed with people seeking new lives in Australia.
Since the civil war ended in 2009, thousands of Sri Lankans, especially Tamils, have fled the country from points around the coast.
But Canberra recently introduced much tougher immigration rules and has forcibly deported planeloads.
Extorted money
Those the BBC met are scared and do not want to be identified.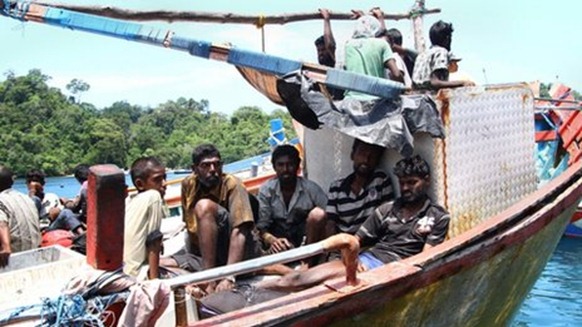 Thousands of Sri Lankans have tried to flee their country in recent years
In a desolate grove of palmyra trees, I meet Dilip, 21, a Tamil man.
Last September he pawned his grandmother's jewels to pay $9,000 (£5,800) to an agent. He got into a small boat with 100 other men to escape Sri Lanka.
He says pro-government armed groups had killed his grandfather, extorted money from his family and threatened him for campaigning for the main Tamil party during provincial elections.
But the 19-day journey, which took them to Australia's Cocos Islands, was terrible.
"Near Indonesia there were heavy winds and the boat almost capsized," he says. "We had no food or water for three days. It was a tiny boat.
"The skippers would beat us. They would shut us inside the fish-cooling compartment for hours a day. There was no space to breathe or sit properly."
Dilip has a sheaf of documents detailing his plight. In one letter a pastor testified to sheltering him in his church because of the threats he faced.
But Dilip says the Australian officials – in Darwin, the northern city to which they were flown – ignored his papers and, after 25 days, deported him and 16 others. He says they were given only cursory interviews and subjected to degrading body searches.
(For updates you can share with your friends, follow TNN on Facebook and Twitter )