Tamils across the UK, braving showers to attend the Black July event held in Mitcham, London on Saturday, rejected the 13th Amendment and the Provincial Councils system under the unitary Sri Lankan system as even a starting point of resolution of the Eezham Tamils' national question. A statement by the TNPF elaborating on the subject released earlier in the day was read out at the event. A play by youth activists depicted the possible negative aftermaths of accepting the Provincial Council system. The play also urged the older generation to hand over the struggle to the next generation who are willing to fight from principled positions instead of accepting half-baked solutions that will only deny the youth their space to take forward the struggle.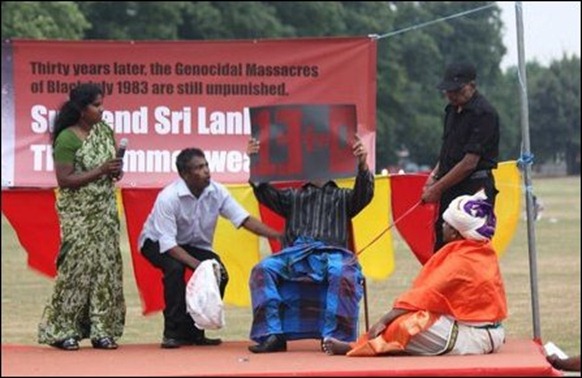 The relay flame in memory of the victims of Black July was carried by youth activists born after 1983, from 23 July till 27 July passing through landmarks in London.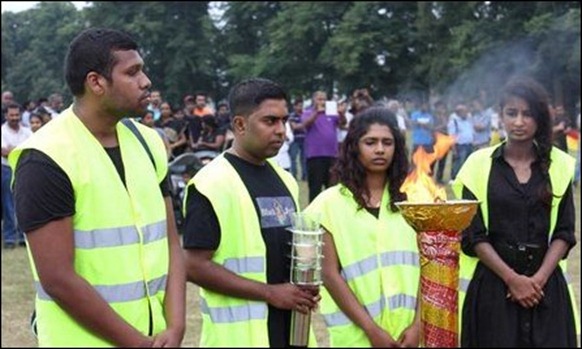 The event in Mitcham included poems, dances, plays and speeches.
Speaking at the event, Yathavi Ratnabal from TYO-UK asserted that a solution for the Eezham Tamils within a unitary state was not possible, reasoning that "pogroms and massacres from 1956 to 2009 account for the on-going systematic genocide of the Tamils by the successive Sri Lankan regimes. Post-Mullivaikaal the atrocities have not ceased instead has taken on various other forms, such as sexual abuses on Tamil women and the illegal appropriation of Tamil owned land to name a few."
Former TNA MP for Batticaloa Mr. Jeyanandamoorthy urged the diaspora to stay strong on principled political grounds.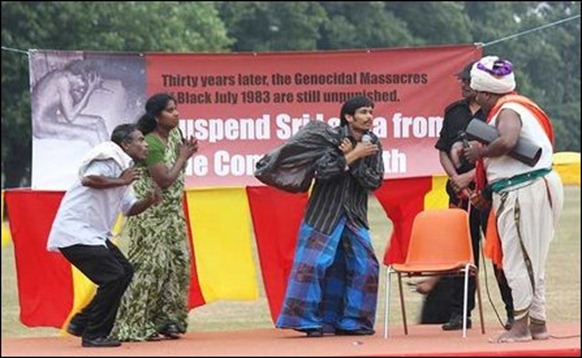 Reading out a Tamil language statement from the TCC-UK, Mr. Rajamanoharan said: "The 13th amendment was a creation of the enemies of Eezham Tamils. It was not produced with any input from Tamil political representation. It is not a starting point or interim solution to the Tamil national question."
Also timed at the 30th commemoration of the Black July pogroms, the British Tamils Forum (BTF), announced earlier this week a new campaign titled "Stop Uprooting Tamils from their Land". The campaign targets the pertinent issue of genocidal land grabs in the Tamil homeland by the occupying Sri Lankan State.
(For updates you can share with your friends, follow TNN on Facebook and Twitter )