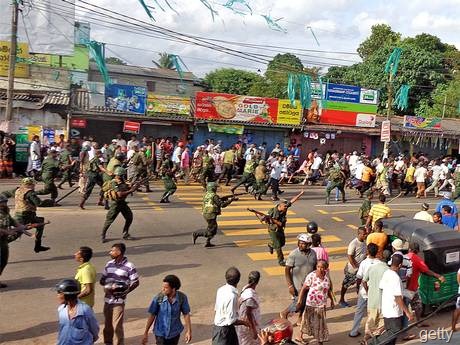 The EU has called on Sri Lanka to ensure the families of protesters shot dead by troops during a demonstration over polluted water receive justice.
It has made a similar request for those hurt in a series of attacks on mosques by Buddhist mobs.
The government of President Mahinda Rajapaksa has faced strong criticism over a series of incidents including the death of three civilians during a protest in Weliweriya town northeast of Colombo. The Weliweriya protesters had claimed a local factory was polluting the drinking water by discharging chemical waste.
Mr Rajapaksa has been condemned for deploying troops to break up the peaceful protest. Two teenagers and a 29-year-old man were killed and dozens of people were wounded. Members of the media were attacked. Sri Lanka's Roman Catholic church has accused the military of breaking into St Anthony's Church in Weliweriya and beating people who sought refuge.
Separately, there have been a series of attacks on mosques and Muslim-owned properties following campaigns by Buddhist nationalist groups. Thirty such attacks have been recorded since 2011, with the latest coming on Saturday when a mob attacked a mosque in Colombo. Seven people were hurt.
"The right to freedom of peaceful assembly and the right to freedom of worship are fundamental to democratic societies and should be protected by the state," said the EU, according to the Associated Press.
(For updates you can share with your friends, follow TNN on Facebook and Twitter )