Tamil National Alliance (TNA) parliamentarian Suresh Premachandran has called for an international investigation on the state of Prisoners of War (POW) according to international law on the conduct of war. Addressing a press conference in Jaffna on Friday, Mr Premachandran said the latest witness declaration by the SL military at Vavuniyaa High Courts that there are no former LTTE surrendees in their custody any more, while there are still hundreds of family members looking for their kith and kin, who had been handed over personally by them to the SL military, clearly indicated that the international community should now take the initiative to bring about international investigations on both war crimes and on the state of the Prisoners of War (POW).
"We are still having hundreds of witnesses, who had handed over their family members to the Sri Lankan Army in the hope that they would be released sooner or later. But, now the Sri Lankan military has given a witness statement to the Vavuniyaa High Court claiming that no LTTE members had surrendered to the Army and that no one is under their custody anymore as such. This clearly leads to the demand for an international investigation on both the war crimes and on the Prisoners of War," Mr Premachandran said.
Apart from the witness statement by the Sri Lankan military at the Vavuniyaa High Court, Sarath Fonseka, the former Sri Lanka Army commander, who is now in political opposition to Mahinda Rajapaksa, has also stated in Jaffna last week that there was no LTTE commanders or key members handed over to the SL military. He went on declaring that all who were in custody under his command were accounted for and handed over to the new administration.
Sarath Fonseka had also gone on record denying that former Trincomalee Political Head of the LTTE, Mr Elilan, had been handed over to the SL military at Vadduvaakal in Mullaiththeevu.
Elilan's wife Ananthi Sasitharan, who also represents the kith and kin of missing persons, is contesting the provincial council elections in the North seeking a political voice for them.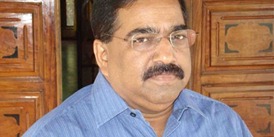 "Be it a key member of the LTTE or not, the Sri Lankan military has no right to kill the prisoners of war," Suresh Premachandran MP further said at the press conference held in Jaffna.
SL presidential sibling and economic development minister Basil Rajapaksa told the people of Jaffna not to bring in the issues of missing persons and the issue of land appropriation in former High Security Zone during the election campaign.
Earlier, the Sri Lankan government claimed that more than 12,000 LTTE members had surrendered. Apart from a known number of people still held in prisons, all the remaining have been released after a so-called rehabilitation programme at the hands of the genocidal military. But, the fate of hundreds of key members who were handed over or filtered away from the people by the SL military after the end of war, is still not known.
(For updates you can share with your friends, follow TNN on Facebook and Twitter )