Canada's Prime Minister, Stephen Harper, has concluded that Sri Lanka's president, Mahinda Rajapaksa, is a serial abuser of human rights and is refusing to be photographed getting out of a car and shaking hands with him, Canada's CBC News said Monday. The Prime Minister, while citing "intimidation and incarceration of political leaders and journalists, harassment of minorities, reported disappearances, and allegations of extra-judicial killings," in accusing Rajapakse of gross rights violations, also took a swipe at the Commonwealth accusing the organization as "the great, lumbering remnant of the British empire [that] has betrayed its values by letting Sri Lanka off the hook, and by allowing it to host the summit at all," CBC reported.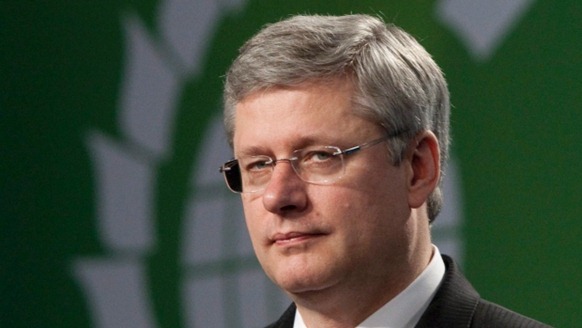 CBC News said Harper's carefully prepared indictment of Rajapaska highlighted a rare bluntness seldom shown by Heads of State. Harper has looked at the aftermath of Sri Lanka's ghastly civil war and, in place of the garbled generalities that often infect the official pronouncements of his own government and many others, and has declared flatly that "the absence of accountability for the serious violations of human rights and international humanitarian standards during and after the civil war is unacceptable," the CBC News said.
Harper's statement "reads like a blast from Human Rights Watch or Amnesty International — both of which have excoriated the Commonwealth for turning a blind eye to Sri Lanka's record," the paper said.
Harper, in his statement, also noted the impeachment and ouster of Sri Lanka's former chief justice Bandaranayake earlier this year.
Accusing the Commonwealth for allowing the summit [CHOGM] to be held in Colombo, Harper said "[t]his is a decision the Commonwealth has made and the Commonwealth will have to live with it," Harper threatened to cut the $20-million annual contribution that Canada makes to the Commonwealth organization.
"We will examine our engagement and financing of the Commonwealth, which is considerable, to make sure we are wisely using taxpayers' dollars and reflecting Canadian values, " he told reporters at the APEC summit in Bali, Indonesia.
"Canada believes that if the Commonwealth is to remain relevant it must stand in defence of the basic principles of freedom, democracy, and respect for human dignity, which are the very foundation upon which the Commonwealth was built," a Canadian Government issued backgrounder note on Sri Lanka.
The backgrounder noted that as the host of the summit, Sri Lanka will become chair of the Commonwealth and a member of its Ministerial Action Group, charged with monitoring violations of its values, prompting CBS to comment that the paper gets a sense that "this is what pushed Harper over the edge."
(For updates you can share with your friends, follow TNN on Facebook and Twitter )