Hundreds of Tamil Nadu Police personnel were deployed at Va'l'luvar-koaddam in Chennai Monday around 2:00 p.m. where Thoazhar Thiyagu was conducting fast-unto-death campaign with 9 demands addressed to the Central Government of India. After carrying out a medical check-up, the Police has relocated the fast-unto-death activist from the venue of Va'l'lvuvar-koaddam and admitted him at Royapettah General Hospital around 2:30 p.m. However, Mr Thiyagu has vowed to continue his fast-unto-death under police detention and urged the Tamil activists and students to step up the struggle against India's participation in the CHOGM meet scheduled to take place in Colombo. Following the relocation of the activist, Nandanam Arts College students launched a sit-in protest with the 9-points demand put forward by Thoazhar Thiyagu, the latest reports from Chennai said.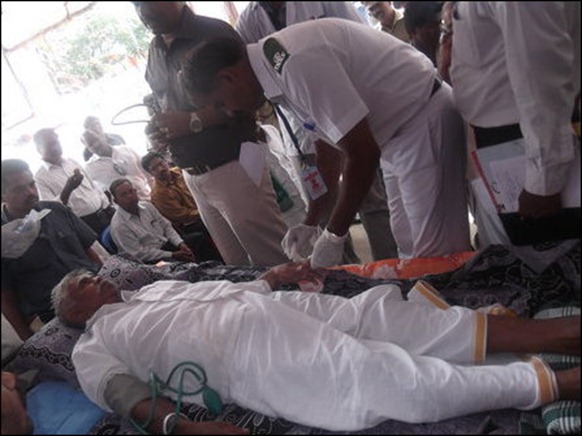 In the meantime, activist groups have been urged by the organisers to discuss the ways of taking forward the struggle at Thiruvallik-kea'ni Monday evening, news sources in Tamil Nadu said.
The genocidal Sri Lankan State should be suspended from the Commonwealth, the venue for the upcoming CHOGM meet should be shifted away from Sri Lanka and the Indian leaders should not take part if Colombo is to host the meet, are among the top demands of the 9-point list put forward by Thoazhar Thiyagu.
Prominent activists and leaders of movements and parties have been expressing solidarity with Thoazhar Thiyagu and are accompanying him in observing the fasting campaign.
(For updates you can share with your friends, follow TNN on Facebook and Twitter )