The occupying Sri Lankan military is being hurriedly deployed in clearing 2,000 acres of agricultural lands of Eezham Tamils in Kokkuth-thoduvaay in Karaithu'raippattu division of Mullaiththeevu district, after the conclusion of the Northern Provincial Council elections. Even though the uprooted people were allowed to resettle in Kokkuth-thoduvaay in 2011, their paddy fields had not been returned to them and they continue to suffer for their survival without livelihood assistance. Now, the Tamil villagers are shocked to learn that their paddy fields are being taken away to carve out a Sinhala colony in the middle of their village where they have been struggling to start their livelihood after 30 years of displacement.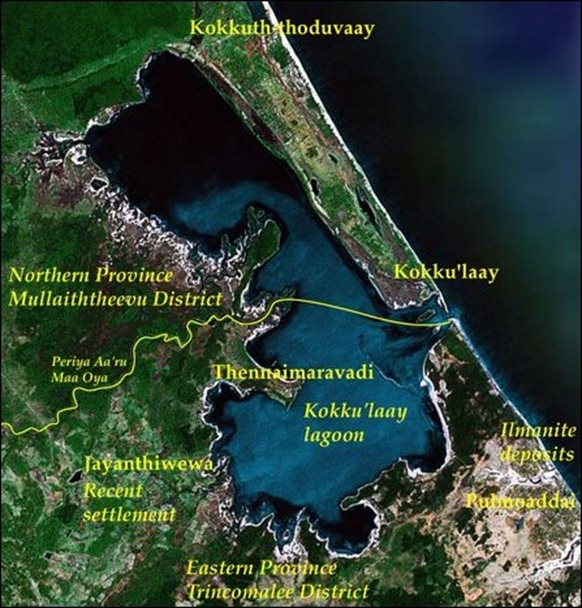 The location of Kokkuth-thoduvaay to the north of Kokku'laay. [Satellite map courtesy Google]
More than one thousand Tamil farmers were dependent on the income of the paddy crops from these fields for their survival before they were chased out from these lands in 1982-83.
Since the uprooted Tamils were allowed to resettle in Kokkuth-thoduvaay, the SL military was blocking them from entering their paddy fields citing the danger of land mines.
The latest land appropriation has come at a time the NPC is expected to take up the most crucial concern of Vanni people on Sinhalicisation of strategic Tamil lands in order to permanently wedge the North from the East.
Already, an entire Sinhala division has been carved out in Mullaiththeevu, Sinhalcising Ma'nalaa'ru into Weli-oya.
So far, the land appropriation has been going on along the provincial border of Northern and Eastern provinces and strategic coastal areas, but now the colonization is reaching the interior areas, the Tamil villagers complain.
After the NPC elections, the SL military, on behalf of occupying Sri Lanka's Mahaweli Development Authority, has started to clear the bushes. The land is getting partitioned into residential plots to create a Sinhala colony in the middle of the village where Tamils have resettled.
The colonization of Tamils land is taking place despite the villagers documenting their ownership of the said lands through the SL Government Agent of Mullaiththeevu. The villagers posses land deeds for these lands since 1974.
The paddy fields being appropriated are located close to the Kokkuth-thoduvaay Koaddaik-kea'ni Pi'l'laiyar temple.
(For updates you can share with your friends, follow TNN on Facebook and Twitter )