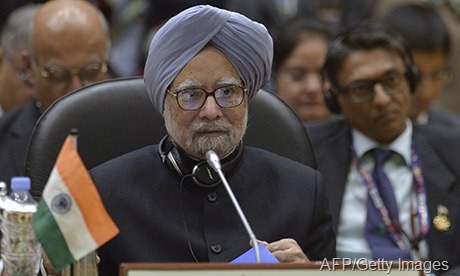 Manmohan Singh, the Indian prime minister, has written to powerful politicians in the south of India to assure them he has yet to make a final decision on whether to travel to the controversial Commonwealth summitin Sri Lanka next month.
Observers say his most recent letter, the latest in a series, and the continuing delay indicates Singh is increasingly concerned by the domestic political cost of attending the Commonwealth heads of government meeting in Colombo and is genuinely considering a boycott.
However, a no show from the leader of the Commonwealth's biggest member would be a huge blow to the credibility of the organisation.
It would also embarrass David Cameron, the UK prime minister, who has said that his presence in Sri Lanka next month is the "right decision" for the Commonwealth and will allow a "tough message" about its human rights record to be delivered personally to the Sri Lankan government
The Sri Lankan government's bid to hold the CHOGM in 2011, two years after the bloody end of a 26-year civil war against Tamil separatists in the north, failed amid concerns over human rights in the country and charges of war crimes levelled at local armed forces.
In a report published earlier this week, a parliamentary committee accused the British government of timid and inconsistent policy towards Sri Lanka, where it says there are "continuing human rights abuses".
The UN has also been critical, particularly of a lack of effort towards "reconciliation" between the Sinhala majority and the country's Tamils.
Sri Lankan officials deny the charges, which they say are exaggerated, unfounded and biased.
So far, the Canadian prime minister, Stephen Harper, is the only head of government to say he will not attend the meeting, to be chaired by Prince Charles.
The issue poses a particular dilemma to the Indian government. Relations between India, a large but troubled country with a population of 1.25 billion, and Sri Lanka, which is a small middle-income country of 22 million, are complex and often tense.
Chinese influence has grown significantly in recent years and there are fears in Delhi that further deterioration would allow Beijing to make more inroads in the island nation.
The Commonwealth summit is also a useful opportunity for India in terms of top-level interaction with other developing world nations, particularly in Africa, former senior diplomats say.
However, with a tough election expected next spring, which is, at best, likely to lead to frantic coalition-building, alienating local voters or potential allies for Singh's beleagured Congress party would be costly.
Powerbrokers in the southern state of Tamil Nadu, where voters are ethnically and linguistically close to Sri Lanka's Tamil minority, have repeatedly pressured Singh to take a stronger stance against alleged "human rights violations" on the island nation.
In March, the Dravida Munnetra Kazhagam party (DMK) withdrew from the ruling coalition, led by Singh's Congress party, in protest over Delhi's supposed failure to toughen a UN resolution which encouraged Sri Lanka to investigate the war crimes charges.
Singh's most recent letter to the DMK president, M Karunanidhi, is, however, non-committal, officials said, and merely explained that the prime minister's decision on whether to travel to Colombo would be taken in "the best interests of the people of India and of Tamil Nadu".
Karunanidhi has previously said India "cannot have normal relations with a government that is insensitive to the demands of Sri Lankan Tamils".
Earlier this week, the Tamil Nadu chief minister, J Jayalalithaa, another potential electorical or coalition ally, wrote to Singh "to reiterate Tamil Nadu's view that India should not participate in the CHOGM hosted by Sri Lanka at any level – titular, ministerial or official".
"Only such an action will convey India's unequivocal stand that it will not tolerate the violation of human rights of the Sri Lankan Tamil minority," she told the prime minister.
Senior Sri Lankan officials told the Guardian earlier this week that "public lecturing" on human rights was unhelpful.
"We are asking people to remember we are a developing country and need time to get things right, in our own way," the official said.
(For updates you can share with your friends, follow TNN on Facebook and Twitter )