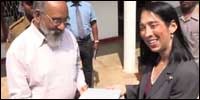 The US Ambassador in Colombo, Michele Sison, visited Jaffna Wednesday to greet the newly elected Northern Provincial Council (NPC) Chief Minister CV Wigneswaran in the presence of media at a photo session at the Chief Minister's residence. The US Ambassador told the journalists in Jaffna that the NPC election was a 'big milestone' for the people of the Northern province. The provincial administration under unitary and genocidal Sri Lanka, set up in Jaffna by Indo-US 'strategic partnership,' focuses on every inroad it could make without conceding any of the fundamental aspirations of Eezham Tamils, commented political observers in Jaffna, adding that the picture is becoming increasingly clear that the Tamil struggle has to be now waged directly against Washington and New Delhi.
"This is my first call on Honourable Chief Minister in Jaffna, of course we have met many times in Colombo, Sir. We have discussed the many challenges that the Chief Minister and his ministers are now facing in bringing solutions to many requirements and needs. […] We discussed livelihood and we discussed land issues, she said.
"I briefed the Chief Minister on a number of projects we are undertaking here in the North, Sir. A 12 million dollar USAID project focused on livelihood, poultry, dairy, vegetable gardening and assessed some 5,000 families over the next two years, particularly women-headed households, Sir."
"I briefed the Chief Minister on our expansion of our English-language training programs as well as assistance at Jaffna University through our Fulbright program.
"I look forward to many more meetings up here, Sir. I do believe that we can partner with you and your provincial council to support your endeavours up here Sir.
"Of course, we agree with you that a united democratic Sri Lanka in which all citizens can live in dignity and in prosperity is the goal of all of us as international partners of Sri Lanka, with your support Sir," Ms Michele said thanking Mr Wigneswaran in the presence of the media.
When the journalists asked on whether they discussed about the houses being demolished by the SL military in Valikaamam North, the US Ambassador wanted Mr Wigneswaran to respond to media.
The Chief Minister said he had explained certain issues to the US Ambassador. "But, this is a political matter which has to be taken up with Sri Lankan Government [implying it was an internal affair]. We can't achieve anything by talking about this to foreign officials. But, I have explained that such things are taking place," he said. "She can't express any opinion on this matter," he said adding that he had contacted Mr Sampanthan the day before yesterday and asked to take up the matter with the Sri Lankan President.
The genocidal war that was waged against the nation of Eezham Tamils by 30+ Establishments led by the USA, and the ongoing structural genocide, are not internal affairs. The USA, now hiding behind Wigneswaran to respond to the question of structural genocide, never cared the responses of hundreds of thousands Tamils when the war designed by it ended in genocide, commented Tamil activists for alternative politics in Jaffna.
When a reporter asked Mr Wigneswaran whether he has received any invitation to take part in the CHOGM, Mr Wignesweran responded: "No such invitation had come so far. Only papers have written about this. Perhaps we may receive invitations. Let us see. We will think about it when it comes."
Mr Wigneswaran described the visit by the US Ambassador as a positive signal for 'people-to-people' relationship between the people of Northern Province and the people of the USA.
The South Korean Ambassador Jongmoon Choi also visited Jaffna on Wednesday and promised assistance in the fields of vocational training and livelihood projects. Mr Jongmoon Choi said that the CM had asked about Korea providing employment opportunities for the youth in North in South Korea and said he had promised to arrange Korean language instructors to be present in Jaffna to provide Korean language training to the youth so that they can seek job opportunities in the Republic of Korea.
(For updates you can share with your friends, follow TNN on Facebook and Twitter )