Three key members of the Northern Provincial Council (NPC) on Monday staged a walkout, when Sri Lanka's colonial governor in the North, Maj Gen (retd.) G.A. Chandrasiri was about to deliver his keynote address at the NPC. The SL governor was formally invited by the NPC Chief Minister to address the council. Former parliamentarian and NPC member Mr MK Sivajilingam, Ms Ananthi Sasitharan and Mr S. Sugirthan walked out stating that they were obliged protest when a war criminal was addressing the elected council. More than 2,000 people disappeared in the peninsula under the military command of Chandrasiri and as the Governor of North he has done nothing for the real rehabilitation or reconciliation, the NPC members who walked out told media.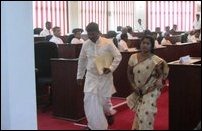 "Several Tamil women were made widows under his military command in Jaffna. The well-known rape and murder of Jaffna schoolgirl Krishanthi Kumaraswamy took place under his command. As an elected candidate and activist voicing for the rights of women, I object his presence at the NPC," Ms Ananthi told media.
Mr CVK Sivagnanam chaired the second session of the NPC, which started after the SL governor came to the NPC secretariat where he received a parade by the SL Police.
The SL governor who took to the podium was stunned for a while as the members staged the walkout. Then, he read the keynote address for 40 minutes.
As the three prominent members walked out, the majority of the remaining NPC members also chose not to pay attention to SL governor's keynote address.
Chandrasiri started his address by paying tribute to 'heroic Sri Lankan' forces.
The Northern region received unprecedented development under 'Vadakkin Vasantham' during the last four years, the SL governor claimed.
Sri Lankan President Mahinda Rajapaksa had allocated 100,000 million rupees for the period from May 2009 till the end of 2013, which is much more than the funds that had been allocated for this region in the entire period since independent till 2009, Chandrasiri said.
Chandrasiri was warning that "cooperation and consensus with the Central Government is essential for the PC to function."
"For example, funds required for the function of the PC each year need to be appropriated from the national budget. Likewise, any foreign funds provided for any development or social project within the province can be channelled only through the Central Government," he said and went on: "Similarly, the management department of the central government decides for the cadre of the provincial public service and the provincial councils are also required to consult the Government or the Parliament when making statutes for the Province for the subjects coming under concurrent list of the constitution."
(For updates you can share with your friends, follow TNN on Facebook and Twitter )