Colombo has schemed a sinister move to demographically annex Thennai-maravadi, a strategic ancient Tamil village in Kuchchave'li division on the border of Northern and Eastern Provinces with the Sinhala dominated Padavi Sripura division of Trincomalee district, civil sources in Trincomalee told TamilNet. By annexing Thennai-maravadi to Padavi-Sripura, all the administrative affairs of the village would be taken over by the Sinhala officials. This will make it easier for Colombo to carry out the Sinhalicisation of the entire area, Tamil officials in Kuchchave'li Divisional Secretariat said. The lands belonging to Tamils will be seized and handed over to Sinhalese settlers with the aim of permanently wedging the demographic contiguity of the northern and eastern provinces.
The latest move comes parallel to the already completed demographic genocide in the adjacent Mullaiththeevu district, where the entire Ma'nalaa'ru region was annexed with Sinhala division of the North Central Province during the Sinhalicisation and was later carved out as a 100% Sinhala division in Mullaiththeevu.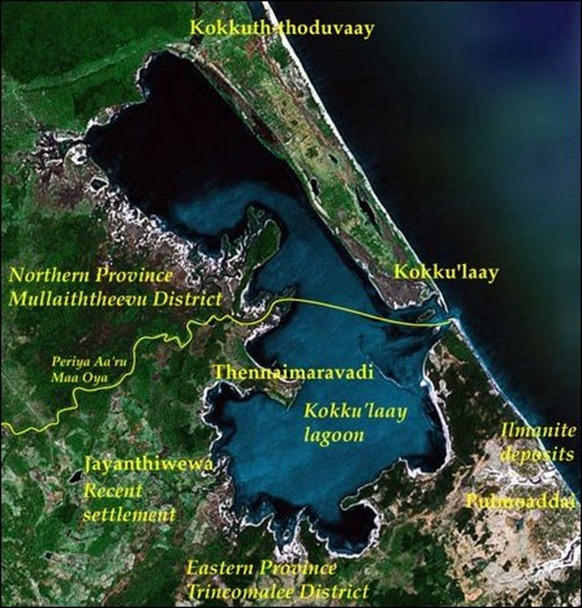 The location of Thennai-maravadi
Shown within the box is the target area where Colombo has accelerated Sinhalicisation and colonisation for demographically wedging North and East
Colombo's Deputy Minister of 'Economic Development' Susantha Punchinilame is behind the latest move to annex Thennai-maravadi with Padavi Sripura.
Through the 'Mahaweli Development Authority', which is under the control of Colombo's central administration has already been appropriating several acres of lands belonging to Eezham Tamils in their traditional village of Thennai-maravadi.
Padavi Sripuara in Trincomalee district lies adjacent to Padaviya division in Anuradhapura district of North Central Province.
The British of colonial times annexed the kingdoms of Tamils with that of Sinhalese in 1833. Disregarding the concerns of the Tamils, the power was transferred to Sinhalese by the British whose primary concern in 1947 was to see a strategic defense pact with Ceylon enabling the use of the geostrategic harbour of Trincomalee.
Trincomalee district was made a Sinhala majority district through Sinhalicisation and colonization through the 'Mahaweli Development' programme with external funds.
India, the regional power, sought access to strategic Trincomalee through Indo-Lanka accord in 1987 with the Sri Lankan State. The accord only talked about a 'temporary' merger of North and East, subject to a 'referendum' in East only could decide the permanent status of the merger. This enabled the genocidal State of Sri Lanka to proceed with the structural genocide on the nation of Eezham Tamils.
The 2002 Ceasefire Agreement mediated by the West and 'managed' by Co-Chair States and India, brought Tamils to Mu'l'livaaykkaal, enabling the Sri Lankan State to conclude a genocidal onslaught on Eezham Tamils.
Even now, none of these powers that continue to guarantee the territorial integrity of the Sri Lankan State, are prepared to voice for the territorial integrity of the Tamil homeland.
(For updates you can share with your friends, follow TNN on Facebook and Twitter )