Responding to Sri Lankan delegation's accusation on her address at Geneva, Northern Provincial Council (NPC) member Ananthi Sasitharan on Wednesday defended her statements in Geneva saying that she didn't violate any protocol of the Provincial Council system or that of the Sri Lankan State. "In fact, I went to Geneva following the democratic decision by the NPC," she said. Also, the Sri Lankan delegation was malicious in projecting that she was using the term "Tamil Eelam". Ms Ananthi said she was only using the term "Eelam Tamils," which is the cultural identity of the Tamils in the island. I don't want to go into the discussion of the term that they have twisted is lawful or not. But, I was only using the term "Eelam Tamils" and the full text of my speeches will be made available by the UN Human Rights Council if anyone want to verify it, she further said.
The Sri Lankan delegation maliciously told the Council on Tuesday that Ms. Sasitharan, was referring in her statements to the Council to 'Tamil Eelam' and that by doing so she had "failed to adhere to the agreed language of the United Nations, and is in violation of the Constitution she has pledged to uphold as a Provincial Councilor."
"[D]espite being a member of a provincial administration," Ananthi Sasitharan has "chosen to make statements in the Council using time allocated to two NGOs," the Sri Lankan delegation was telling the UN Human Rights Council on Tuesday.
Further the Sri Lankan delegation was condemning Ananthi for voicing against the arrest of 13-year-old girl and her 48-year-old mother who have been active in peaceful mobilisation demanding the whereabouts of missing persons.
"I have all the right to voice for the victims based on the news and reactions coming from the human rights activists and my council in the North," Ananthi said pointing out that NPC Chief Minister CV Wigneswaran was also protesting against the arrest and detention of Jeyakumari and her daughter on Tuesday in Jaffna.
The Sri Lankan delegation was reacting to Ananthi's speeches in its right to reply session under Agenda Item 4 on Human rights situations that require the Council's attention.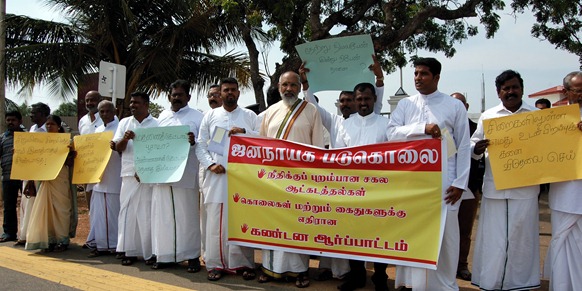 NPC Chief Minister CV Wigneswaran taking part in the protest demanding release of the right activists detained by the Sri Lankan TID
(For updates you can share with your friends, follow TNN on Facebook and Twitter )