Genocidal Sri Lanka's Ministry of Defence (MOD) on Monday cited British government appointing General Peter Cosgrove as the Governor General of Australia, and has questioned why there is a big qualm about Colombo having a Military Governor in the North. By bringing in the parallel, the Colombo Establishment concedes that it is occupying and ruling the Tamil land as a colony with an attitude that has been inherited by the Sinhala State from the European colonialism of the Portuguese, the Dutch and the English, commented Tamil activists for alternative politics in the island.
In a story titled "If UK can appoint a Military officer to be Governor of Australia why can't Sri Lanka appoint a military Governor?", the Colombo MOD article went on to state that "[t]he racism shown against General Chandrasiri by UK and the West is totally uncalled for. Such type of racist sentiments need to stop."
The SL Defence article was comparing the appointment of a former military chief General Peter Cosgrove as the Governor General for Australia and its appointment of Major General G.A. Chandrasiri, a war-crimes accused commander of the genocidal military as the Governor of the Northern Province.
"In this instance the UK has appointed a retired general who was Australia's defence chief in 2005 and commanded the International Peace Keeping force in East Timor and had also been a platoon commander in Vietnam," the article said adding: "Maj. Gen. Chandrasiri was appointed as Governor Northern Province in 2010 by the Government of Sri Lanka. There is no person who knows the terrain of North Sri Lanka than General Chandrasiri […]".
Since 2006, Rear Admiral (retd) Mohan Wijewickrama has been the Governor for Eastern Province.
The Queen of England appointing British Governor Generals to Australia, Canada and New Zealand is a surviving legacy of British colonialism, which is entirely ceremonial at present.
Genocidal Sri Lanka's military governors in the North and East, occupied by Colombo's military, is not a comparison, Tamil activists said.
"However, the Colombo's Defence bringing in such a comparison shows that with what attitude they look at the nation of Eezham Tamils in the island," an activist in Jaffna further commented.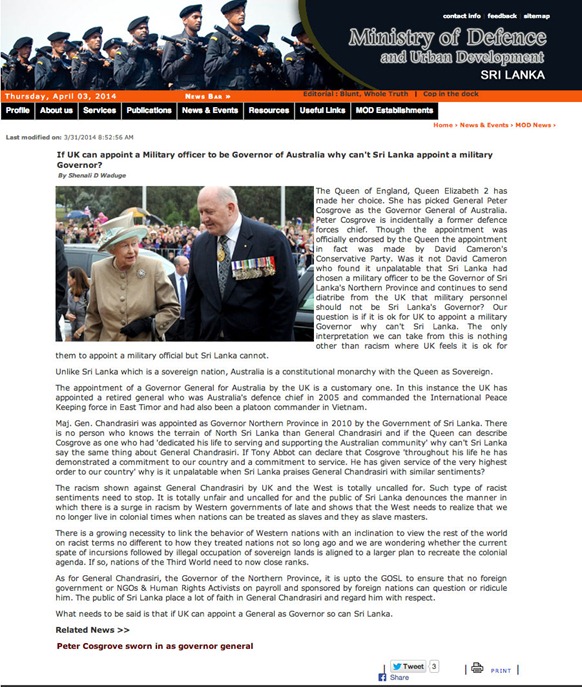 Screenshot of SL Defence Story on 31 March 2014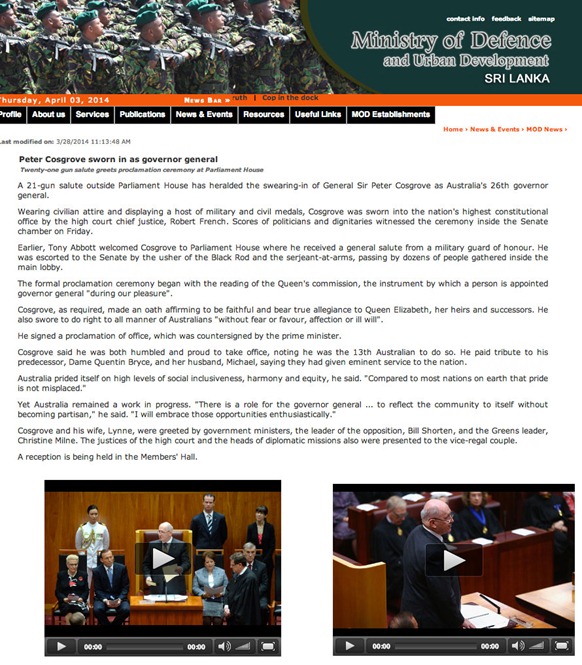 Screenshot of SL Defence Story on 28 March 2014
(For updates you can share with your friends, follow TNN on Facebook and Twitter )