Appropriating 2,500 acres of lands belonging to Eezham Tamils in Keappaa-pulavu near Nanthik-kadal lagoon in Mullaiththeevu district, and transforming the area into a Sinhala Military Zone, Gotabhaya Rajapaksa, the SL presidential sibling and the defence secretary of Sri Lanka attempted to cut an image on Thursday as if he was returning the lands back to the people by freeing 100 acres to 29 families at the border towards Sooriyapuram, where the uprooted people have been forcefully 'resettled'. 223 families, who have been refused access to their lands, made a bold move of handing over an appeal to Gotabhaya Rajapaksa demanding their lands back.
Gotabhaya Rajapaksa was visiting Keappa-puluavu area on Thursday to inspect the militarisation project and to project an image that the SL military was providing a housing scheme to the uprooted people of Keappaa-pulavu.
The occupying SL military has appropriated more than 2,400 acres of fertile lands surrounding the former LTTE air strip, creating a Sinhala Military Zone by creating a large cantonment housing also the families of the Sri Lankan air force personnel and other military personnel.
The latest move of forcing people of Keappapulavu into a jungle pocket comes after the USA and UK dropped the 'de-militarisation' demand in the resolution passed at the UN Human Rights Council last week.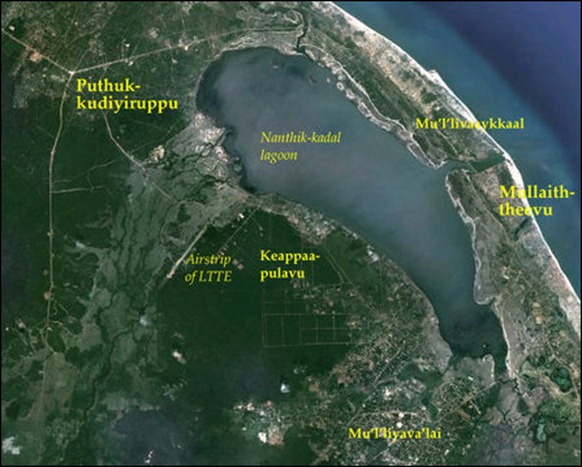 The locality of Keappaapulavu and the former airstrip of the LTTE
(For updates you can share with your friends, follow TNN on Facebook and Twitter )