Apart from its atrocious content, the Tamil version of genocidal Sri Lanka's extraordinary Gazette declaration, dated 21 March and signed by Gotabhaya Rajapaksa itself is an evidence for the State's non-rightful rule over Eezham Tamils and their territory in the island. If a State doesn't know how to properly spell the names of places it claims as 'integral' parts of its country, that only shows an alien rule and questions the very right of the State to rule over that territory, commented Tamil activists for alternative politics in the island, citing the way many of the Tamil villages and places in the island are notified in the Gazette that individually lists out around 400 Tamils in the diaspora as 'threats' to its genocidal and colonial rule.
The mutilation of the identity of a people's living space in Colombo's Gazette shows the continuity of the rule of the Portuguese, the Dutch and the English. The Sinhala-Buddhist State now continues the legacy with the partnership of imperialist New Delhi, the activists said.
After partnering genocide in war, New Delhi imperialism brought its former President and Thirukku'ral expert A. P. J. Abdul Kalam to Colombo to showcase a Three Language Formula to detract any changes in the unitary character of the genocidal State and to smokescreen the on-going structural genocide, the activists further said.
A part of the addresses given in the Gazette notification seem to have been obtained from the listed people themselves, either when they had visited the island or in some other occasion. Such addresses given in Tamil were reproduced correctly. But, on other instances, the presentation of the addresses with mutilated place names seems to be the work of Sinhala intelligence officials of the occupying regime, to whom the places were just alien.
Misspelt place names: (correct spellings are given within parentheses):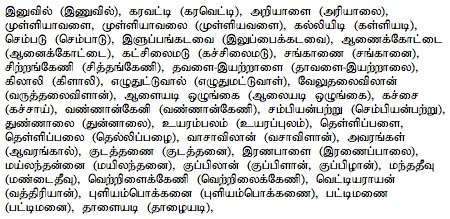 Place names missing conjuncts:


PDF: [Tamil] Extraordinary Gazette notification by the SL State (854/41)
(For updates you can share with your friends, follow TNN on Facebook and Twitter )