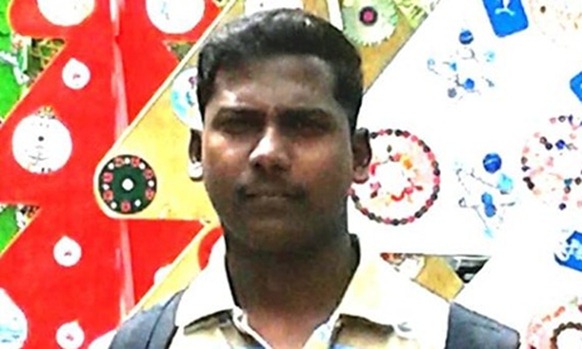 A 29-year-old asylum seeker who died after setting himself on fire has been named as Leo Seemanpillai, a Tamil man who lived in Geelong, Victoria.
Seemanpillai died of his injuries after burns to 90% of his body and is the second Sri Lankan asylum seeker to have self-immolated in Australia this year.
The Tamil Refugee Council said Seemanpillai had set himself alight on Saturday evening and died on Sunday morning at Alfred Hospital.
Seemanpillai arrived in Darwin by boat in January 2013 and was said to be suffering depression for more than a year. He was being held in community detention on a bridging visa with work rights. His refugee claim was still being processed, Scott Morrison said on Monday.
"I don't think we're in any position or, frankly, I don't think anyone else is in a position, to draw any conclusions about what is in a person's mind in that situation," the immigration minister said, adding that the asylum seeker had been receiving fortnightly mental health work assistance.
Aran Mylvaganam, of the Tamil Refugee Council, was at the Seemanpillai's bedside when he died.
"Like thousands of others, Leo had been waiting for more than 18 months to be told if he could stay in Australia and be safe from persecution," Mylvaganam said. "Gradually his psychological state deteriorated and he tipped over the edge."
Mylvaganam said Seemanpillai feared being returned to Sri Lanka from where he had fled to India, after persecution from the Sri Lankan military.
"So many of the Tamil asylum seekers have been telling me for a long time they would prefer to die here than be sent back to a Sri Lankan torture chamber," Mylvaganam said. "I always hoped that these were just words. But it seems that's not the case."
Arasa Ratnakanthan, a Sri Lankan refugee activist who spoke to Seemanpillai's flatmate on Monday morning, said the asylum seeker had left Sri Lanka in the early 1990s aged just three or four.
Ratnakanthan said Leo had spent more than 20 years as a refugee in India and had tried to return to Sri Lanka in 2002 but had been persecuted by the Sri Lankan military and so had returned to India.
Ratnakanthan said Leo's family had been members of the Tamil political movement.
A number of Seemanpillai's organs were donated. His family in India have requested a Roman Catholic funeral.
The Australian government has close diplomatic ties with Sri Lanka and many Sri Lankan asylum seekers have been subject to a fast track "enhanced screening" process, which human rights groups say denies them due process as many have their claims assessed without the presence of a lawyer before being returned.
More than 1,000 Sri Lankans have been returned by Australia in recent years.
Seemanpillai was not subject to the enhanced screening process, but in October the immigration minister warned Sri Lankan asylum seekers who planned to enter Australia by boat: "Anyone who may have come from Sri Lanka should know that they will go back to Sri Lanka."
He continued: "We have an arrangement with the Sri Lankan government and this government will certainly be taking that arrangement very seriously and will be ensuring that we maximise those who go back and preferably they will all go back."

The Greens senator Sarah Hanson-Young said Seemanpillai's death was an indictment of Australia's immigration system.
"As a country, we failed this man. He came to Australia fearing for his life, he asked for our help and we failed him," Hanson-Young said.
(For updates you can share with your friends, follow TNN on Facebook and Twitter )