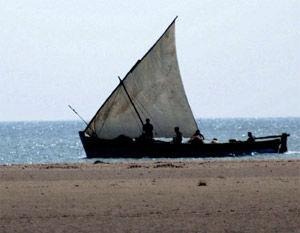 RAMESWARAM: Belying hopes that the bonhomie shared by Prime Minister Narendra Modi and Sri Lankan President Mahinda Rajapakse would translate into better relations on the waters bordering the countries, Sri Lankan navy on Sunday detained 33 fishermen from Rameswaram. The Lankan navy also seized their seven boats .
The fishermen are likely to be produced in Mannar court on Monday.
The incident has sparked off protests among fishermen in Rameswaram and chief minister J Jayalalithaa has shot off a letter to PM Modi. "I request you to put in place a strong and robust diplomatic response and ensure that India registers the strongest disapproval of the belligerent actions of the Sri Lankan navy," she said in her letter.
In her first letter to Modi after he became PM, she also said, "I urge your personal intervention in the matter and request you to direct the ministry of external affairs to take up the matter with the Sri Lankan authorities in a concrete and decisive manner so as to secure the immediate release of 33 fishermen," she said.
She has also requested the PM to "proactively initiate an appropriate and calibrated set of actions that will bring about a permanent end to the perennial problem that plagues the livelihoods of lakhs of Tamil Nadu fishermen who fish in their traditional fishing grounds in the Palk Bay, facing the daily threat of attack and abduction at the hands of the Sri Lankan navy".
U Arulanandam of Alliance for Release of Innocent Fishermen (ARIF) said the fishermen were part of a flotilla of 750 mechanised boats that sailed from Ramanathapuram on Friday after the 45-day-ban on fishing came to an end. The ban on fishing is to facilitate breeding of marine species.
As many as 29 fishermen in six boats were fishing in the high seas between Dhanushkodi and Thalaimannar on Saturday night when the Lankan naval forces rounded them up. They were taken to Thalaimannar and interrogated. Another boat owned by Mahendran developed technical snag and was cast aside near Thalaimannar. The four fishermen in the boat were taken into custody by Lankan authorities.
"We thought the Sri Lankan navy would show restraint in their action after the regime change in Centre and the subsequent visit of the Lankan president to India," said B Jesuraj, Ramanathapuram district secretary of Tamil Nadu Mechanised Boat Fishermen Association.
(For updates you can share with your friends, follow TNN on Facebook and Twitter )