Over a thousand Tamils from across the UK gathered outside the Celtic Park venue in Glasgow, Scotland, where the opening ceremony of the Commonwealth Games was taking place, to remember the victims of Sri Lanka's genocidal pogrom of Black July 1983 and to condemn participation of Sri Lanka in the event. However, Sri Lanka's President Rajapaksa, who was scheduled to be present at the event, evaded it owing to fear of protests reports say. The Tamils, who gathered with the national flag of Tamil Eelam in huge numbers, were treated cordially by the Scottish police, activists present at the demonstration said.

July 23 marks the 31st anniversary of the start of the Black July genocidal pogrom under the UNP regime. The victims of that pogrom as well all the Tamil victims of Sri Lanka's protracted campaign of genocide were remembered at a special vigil at the site.
Most of the participants had traveled more than nine hours by coach from London and other parts of Britain.
The demonstration saw a large presence of youth and children upholding the Tamil Eelam national flag.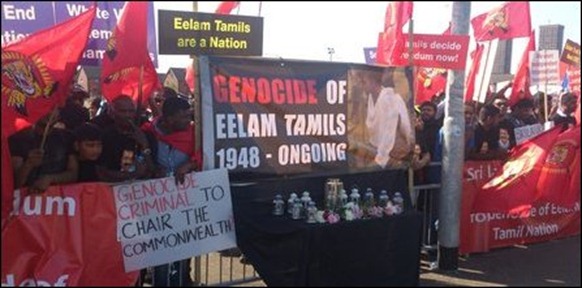 The protesters were also seen holding banners that calling on Scotland not to entertain genocidal Sri Lanka and that "Referendum for Independence is a Right of Every Nation".
Tamils noted the irony of Scotland, a nation that is to imminently hold referendum for independence, playing host to athletes from Sri Lanka, a country that's committing genocide against the Tamil nation which is also struggling for a referendum on independence.
Speaking to TamilNet from the demonstration, Tamil youth activist Sasisthar Maheswaran said "It is necessary to emphasise the need to remember the victims through demonstration of resistance and rather falling into the traps of Establishments that simply want Tamils to mourn for victims outside empty buildings."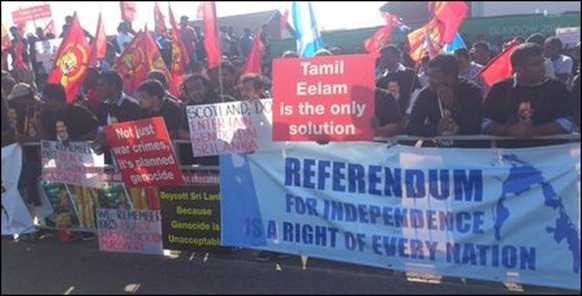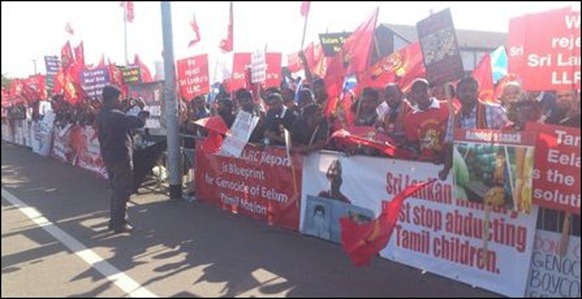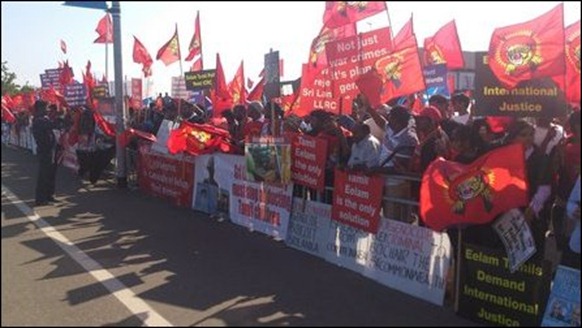 (For updates you can share with your friends, follow TNN on Facebook and Twitter )