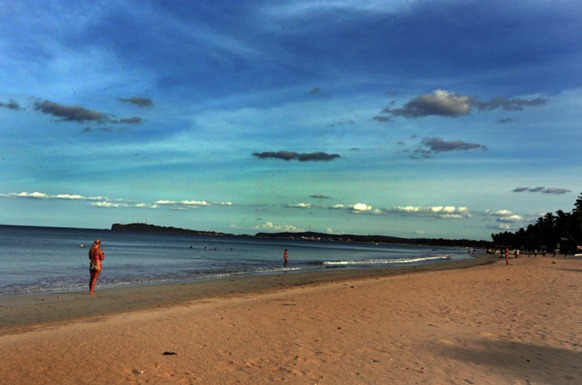 Banking on tourists to revive its economy, Sri Lanka expects over two million arrivals in 2014 [EPA]
Sri Lanka has accused the United States of creating a "false and alarmist view" after Washington warned of possible violence on the island and said anti-Western sentiment was rising.
The travel warning was issued on Friday after an opposition party staged a peaceful protest outside the US embassy in Colombo, the capital, over Israeli actions in Gaza.
The warning "regrettably creates a false and alarmist view of the conditions prevalent in Sri Lanka", said the foreign ministry on Tuesday, the AFP news agency reported.
"Anti-western demonstrations against the US and the United Nations and the recent escalation in Gaza are also on the rise," the security message issued for the US citizens said.
It said there was increased pressure on anyone linked to US projects, warning that "even demonstrations intended to be peaceful can turn confrontational and escalate into violence".
Sri Lanka, which is banking on tourists to revive its economy after ending nearly four decades of ethnic war in May 2009, said the claims were misleading.
Colombo has repeatedly locked horns with Western nations over rights issues, notably allegations that its forces killed at least 40,000 Tamil civilians in the final months of the war between the military and rebels fighting for a Tamil homeland.
Colombo has long denied the charge.
Last week the foreign ministry accused Western diplomats of favouring Sri Lanka's ethnic Tamil minority by attending a meeting in Colombo between envoys and families who lost loved ones in the war.
Pro-government mobs led by Buddhist monks broke up the meeting, attended by Western diplomats, and prompted the US embassy to demand Sri Lanka enforce its own laws on freedom of speech and association.
The US embassy had accused police of supporting the mobs whom it said "behaved threateningly" towards the families from the former northern war zone.
France, Germany, Britain and Switzerland also issued a statement last week backing the US demand for the rule of law.
Critics have recently accused President Mahinda Rajapakse's government of a renewed crackdown on dissent, after it last month banned civil society groups from holding press conferences.
(For updates you can share with your friends, follow TNN on Facebook and Twitter )