Intelligence officers of the occupying Sri Lankan military brought 7 people in their vehicle to witness in front of the Presidential Commission to Investigate into Complaints regarding Missing Persons (PCICMP), which held its sessions in Poonakari on Monday. Two of these witnesses had already appeared in front of the PCICMP at Muzhangkaavil on the previous day. SL soldiers were deployed in civil uniform in large numbers at Poonakari Divisional Secretariat where the session was held. The few witnesses who were present at the site on their own were subjected to strict checking by the SL soldiers. Some of them were sent back by the Sri Lankan soldiers. Those who presented their cases said the Commission was a farce as its members were posing irrelevant questions and were not interested to listen to their complaints of the missing kith and kin.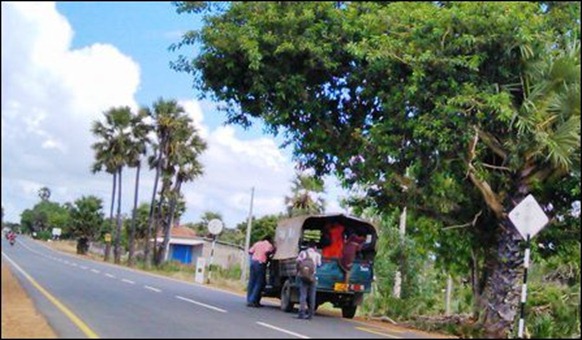 Sri Lanka Army bringing coerced and threatened 'witnesses' to Commission to Investigate into Complaints regarding Missing Persons (PCICMP) which held its hearings in Poonakri on 29 September 2014.
The PCICMP commissioners were posing questions on whether the witnesses had received housing for their resettlement, whether they had enough cattle to sustain their livelihood.
The people who went to request the Commissioners to help them trace the whereabouts of their family members – most of them who were handed over by them to the SL military at Vadduvaakal and in Cheddi-ku'lam internment camp in Vavuniyaa – complained that they felt insulted by the questions posed by the PCICMP Commissioners at Poonakari. "I went there searching for my son. But, they were asking whether I was receiving dry rations," a frustrated mother told TamilNet. "They were also asking whether the Tigers used us as human shields," she said.
Tamil journalists who were present at the site spotted that the SL military had threatened people to witness against the LTTE. The SL soldiers were brining the people in military vehicle and were monitoring what they were telling the PCICMP. Two of the 'witnesses' told the journalists that they were under pressure from the Sri Lankan soldiers to witness against the LTTE.
Finally, when the journalists raised the issue of witnesses being prepared by the SLA, the Commissioners disqualified the witnesses.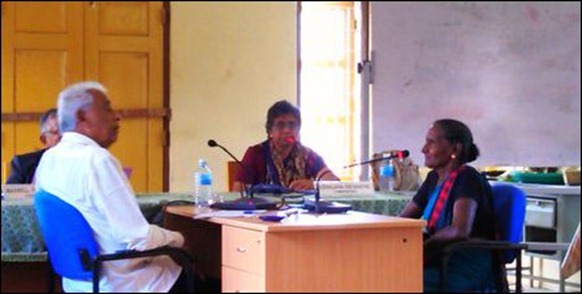 (For updates you can share with your friends, follow TNN on Facebook and Twitter )