27 November. The SL military was deployed in front of the destroyed Heroes memorial statue inside the campus on that day. It had even occupied storied houses and buildings in the neighbourhood of the Jaffna University to keep an eye on the campus. But, the students went on lighting the common flame of sacrifice at the Selvanayagam block amidst the prying eyes of the SL military. The University administration has also been instructed to comply with the TID to identify the students behind the move.
The SL military has registered the numbers of the vehicles that were spotted in the vicinity of the Jaffna University on Tamil Eelam Heroes Day. The security guards have been instructed to identify the owners of the vehicles, an informed source at the university administration told TamilNet.
In the meantime, the SL military has detained 3 Tamil youths for more than one week since the Tamil Heroes Day for having gathered at a nearby hall at Potpathy Lane in Kokkuvil in Jaffna. 11 youths had come together to pay homage to Tamil Heroes at the hall and 8 of them managed to escape from the occupying military, which was on a patrol and spotted the youth lighting the flame inside the hall.
The three youths, arrested at the hall, were handed over to the parents on Tuesday with the condition that all 11 youth should 'surrender' to the SL military at the nearby military camp, news sources in Kokkuvil said. The 8 youth have gone underground, as they fear 'SL military rehabilitation', the sources further said.
Several people have been arrested for having put up posters and for having tolled temple bells during the Heroes Day in Thenmaraadchi and in Vadamaraadchi in Jaffna.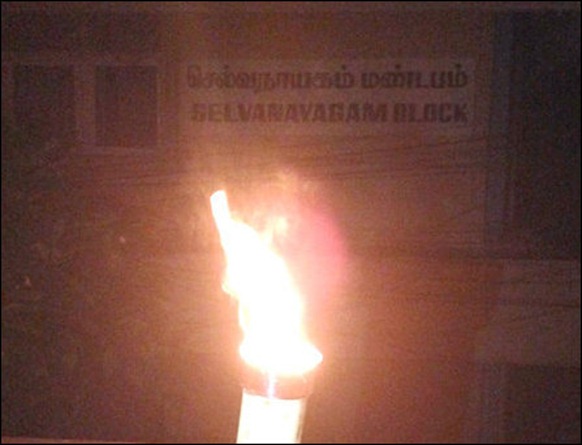 Common flame of sacrifice lit at Jaffna University
(For updates you can share with your friends, follow TNN on Facebook and Twitter )