Brilliantly exposing the legacy of Hinduism in the political, social, cultural and economic oppression committed in India by a small section against the vast majority of the masses, Indian writer Arundhati Roy in an article last month said: "Now, the caste system is up for export. Wherever Hindus go, they take it with them. It exists among the brutalised Tamils in Sri Lanka." She sadly misses the caste structured Sinhala-Buddhism, with which now India's Hindutva makes an unholy alliance through a genocidal route, in the process of empire building and consolidation of the traditional forces of oppression. Meanwhile, the Sanskrit sloka-reciting NPC chief minister Wigneswaran, attending World Hindu Conference in New Delhi last month, was appealing to 'Sanaadhana Dharma' for the salvation of Tamils, writes an academic in Jaffna.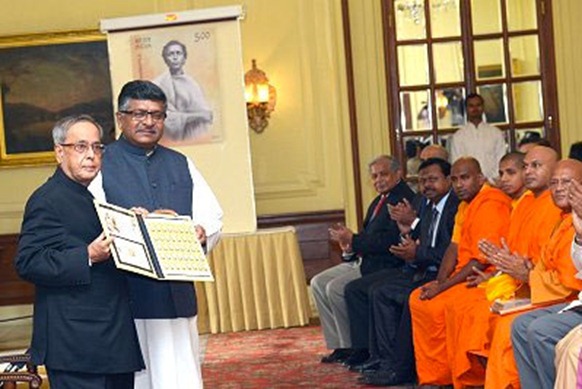 New Delhi's President Pranab Mukherjee releasing postal stamp commemorating Anagarika Dharmapala in October 2014
Arundhati's passing statement on Tamils in the island, coming in her otherwise powerful article upholding the Ambedkar-advised Buddhism to Dalits in India, may imply and lead to misunderstanding that caste exists only among Tamil Hindus in the island, they were migrants from India bringing caste with them, but the 'native' Sinhala-Buddhism is free from caste. This myth is often told to the gullible by the genocidal conquistadors of Sinhala-Buddhism and by some advocates arguing in favour of conversion to 'Tamil Buddhism'.
The fundamental flaw in Arundhati's article is confining the origins of caste exclusively to Brahmanic Hinduism. She also confuses Varna that was theoretically constructed from the Brahmin point of view, especially applied on to them by themselves and imposed on others, with Jaathi, which had altogether different origins. English has only one word, caste, for both.
PDF: India's shame by Arundhati Roy
Arunthati's reference to Karma and rebirth as theoretical justification to caste by birth is also not exclusive to Brahmanic Hinduism. It is shared by Buddhism and extended to even gender so that women can't straightaway aspire for Nirvana.
From time to time there were revolts in South Asia against such oppressive religious constructs and the foremost of them could be seen in the Tamil Bakti movement, in which a woman Kaaraikkaal Ammai, a hunter Ka'n'nappan or a Pa'raiyan Nanthan were shown as attaining salvation straightaway through devotion, defying norms of Brahmanism, Buddhism or Jainism. It later inspired the rest of India but compromising elite oppression was always reconfirming itself.
Arundhati speaks of Dalit Sikhs, Dalit Muslims and Dalit Christians, noting that conversion has not changed the status. But, if she wants to talk about 'Sri Lanka' then there exist Dalit Sinhala-Buddhists too. [Dalit is of course a Marathi word, meaning "broken people." But it is a word of Dravidian etymology and it has to be. The word, by D/ N interchange, is a cognate of Nalintha or Nalivu, meaning ruin, destruction, affliction, distress etc., in Dravidian.]
However, these are relatively minor issues in getting the thrust of Arundhati's article, "India's Shame" written on 13 November and published in the December issue of Prospect Magazine.
Tamils have to read it carefully and absorbingly in understanding the inner mechanism and larger dimensions of the New Delhi-Colombo partnership and the role of India's leading media houses in the genocide of Eezham Tamils, in the on-going genocide, and in the destruction of Eezham Tamil militancy that sought a new construction in South Asia, achieving something against caste and gender oppression besides ethnic oppression.
Unfortunately, intellectuals in India were blinded from seeing the dimensions when the unprecedented genocide in South Asia was taking place in the island.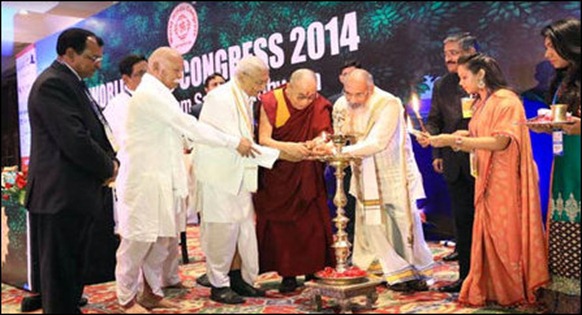 C.V. Wigneswaran at World Hindu Conference
PDF: Address by C.V. Wigneswaran at World Hindu Congress, 2014
Meanwhile, attending the World Hindu Conference organized by Vishva Hindu Parishad at The Ashok Hotel in the Diplomatic Enclave of New Delhi last month, the NPC Chief Minister C.V. Wigneswaran, addressing in the very country of the genocide partners, was appealing against the persecution of Hindus by SL military and Buddhism in the island. He was appreciating the VHP and the Modi government.
A diaspora delegate who attended the conference cited a fellow delegate from Colombo telling him that Buddhism is not a threat to Tamils but Islam and Christianity are worse threats. This is a typical talk that always originates from certain Colombo-centric sections envisaging 'reconciliation' and partnership of traditional elite in the pursuit of material gains and domination. New Delhi Hindutva also thinks in the same way and it is prepared to export a new religion to suit the purpose. A small example is the 'Gitopadesha' panel seen in the renovated hall of the Wesleyan Jaffna Central College, where the Indian consulate in Jaffna held an education marketing meeting recently.
"Our forefathers had worked hard to preserve the Hindu society in the face of successive assaults by Portuguese, Dutch and English colonizers, who wielded their religions as weapons against the Hindus," Wigneswaran said at the conference.
"Hindus […] have a situation not too far off from what was faced under colonial rule – religion being used as a tool for oppression and control," he added.
Claiming that he "was fortunate to have been initiated into traditional Vedantic Hindu thought," Wigneswaran said, "The electorate to which I have been elected as Chief Minister and where I spent nearly a decade as a judge, the Northern Province in Sri Lanka, is steeped in Saivite thought and practices. Fortunately I do not pursue a pedantic, parochial, partisan participation in my Religion!"
What parochialism and sectarianism he exhibits by making the above statement, alienating and degrading the religion of the people he claims to represent; what spiritual supremacy he implies to his school of religion, making no difference from the claims of the Western colonialists of the past and with what brand of religious imperialism he is put to insinuate himself into the country of Eezham Tamils, need careful perusal by all Tamils all over the world, especially by the Tamil mutts and the Dravidian movement in Tamil Nadu.
The Vedantin's contempt for voices coming from Tamil Nadu is well known.
Wigneswaran's speech has to be read against the backdrop of Arundhati's article in Tamils preparing themselves for the coming times.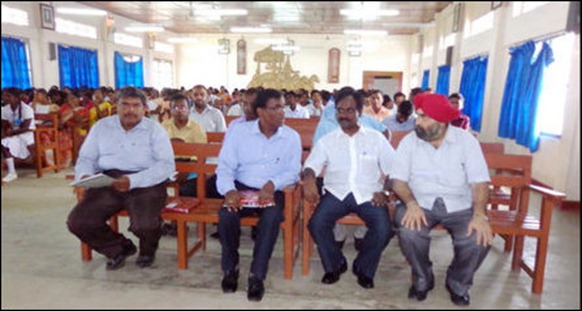 Indian Consul [second from right] at Jaffna Central College. The background shows Gitopadesha panel
(For updates you can share with your friends, follow TNN on Facebook and Twitter )