Heavy fighting near Kilinochchi
COLOMBO: Heavy fighting was reported on Saturday between the Sri Lankan forces and the LTTE on the outskirts of Kilinochchi, the administrative headquarters of the Tigers, even as the Air Force claimed to have bombed several "identified" LTTE targets in the north.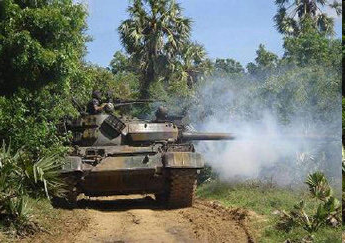 The Defence Ministry said here troops had "successfully crushed" an LTTE counter attack in the Adampan area, west of Kilinochchi. "Troops having anticipated the terrorist move took the terrorist attackers by surprise causing a heavy toll to the terrorists. The clashes commenced around 3 a.m. with army engaging heavy artillery and multi barrel rockets on the terrorists still advancing to the army's positions in the Adampan area," it said.
It claimed heavy damages to the Tiger cadres in several confrontations in the Adampan, Adampan north, west of Iranamadu and south of Terumurikandi areas.
"Over a dozen terrorists were reported killed and similar numbers injured following an Army assault at an LTTE strong point located Northeast of Olumadu general area in Mullathivu district."
The Air Force claimed to have bombed LTTE strongpoints West of Paranthan. Spokesperson Janaka Nanayakkara said the raids were conducted in support of the troops.
The military said troops in the Jaffna theatre had been gradually expanding their domination. "Sri Lanka Army has deployed 3 divisions on three frontiers: Nagarkovil, Muhamalai and Kilaly. Troops in mid-November shifted their mode of operations from active defence to offensive and captured the first line of defence of the LTTE cadres."
In a report posted on its website the LTTE alleged, "Attacks by the Sri Lankan military, floods and its flow on effects, blockade at Omnathai, threats of epidemics that could easily be controlled if there is no blockade, loss of cultivation and livestock and the list goes on. These are some of the multifaceted struggles that the Tamil community is bravely facing".
Separately, in a commentary on the discussions between the delegation led by Tamil Nadu Chief Minister M. Karunanidhi and Prime Minister Manmohan Singh, the pro-LTTE TamilNet said the meeting "failed to achieve its basic objective of convincing the Indian government to take a stand against Colombo's war on Tamils".
(For updates you can share with your friends, follow TNN on Facebook, Twitter and Google+)