Sri Lanka's Mahinda Rajapaksa, a man accused of presiding over multiple war crimes, has lost his bid for a third term as Sri Lanka's president.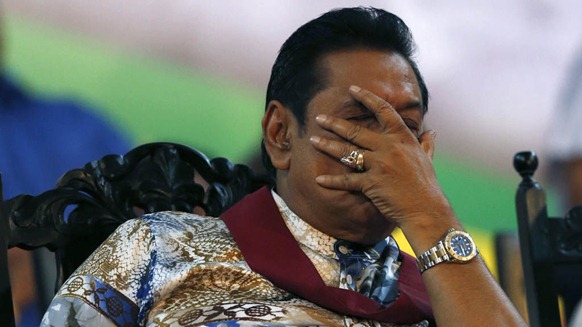 Mr Rajapaksa conceded defeat to Maithripala Sirisena, his one time close ally, on Friday morning and is reported to have promised a smooth transition of power.
Seen by many as a hero after his government crushed terror group the LTTE at the end of Sri Lanka's civil war, Mr Rajapaksa had confidently called the election two years early.
However, he had not counted on Mr Sirisena to defect to Sri Lanka's opposition – a move which united opposition parties against Rajapaksa and rallied parts of the population against perceived nepotism and corruption.
Rajapaksa had held power since 2005, and in 2009 oversaw the defeat of the LTTE, also known as the Tamil Tigers. The Tamil Tigers were a brutal terrorist group who employed child soldiers and pioneered the use of suicide bombers.
In that victory, and shown in footage first aired by Channel 4 News, the army is accused of shelling and bombing civilians and other atrocities. The UN has estimated that 40,000 civilians died in the final weeks of the war.
Since then there have been continuing allegations of human rights abuses against the Rajapaksa government such as enforced disappearances.
However, it was not the government's human rights record – which is being investigated by the UN – that is the main reason for Rajapaksa's defeat.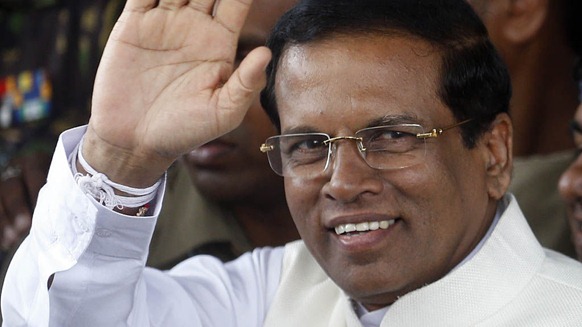 The main plank of Mr Sirisena's (pictured, above) election campaign was an end to corruption and nepotism in the government. He had vowed to remove the Rajapaksa family from office – Rajapaksa and his three brothers all hold positions in government and it is thought his son was being groomed for power.
Rajapaksa had altered Sri Lanka's constitution, allowing him to be elected to a third term and keeping him immune from prosecution – a move that new President Sirisena has vowed to reverse.
Tamil vote
The close run election saw Mr Rajapaksa maintain his popularity with the country's majority Sinhala population but lose out to a wave of support for his opponent from minority groups, especially the oppressed Tamil population focused on the country's north. Mr Sirisena was declared the victor after securing 51.3 per cent of the vote, compared with 47.0 per cent for Mr Rajapaksa.
Tamil voters, many of whom had declined to vote in the previous election because of no viable candidate, turned out in high numbers to vote Mr Rajapaksa out.
However, Mr Sirisena is not predicted to bring any great changes to improve the lives of Tamils. He, like his defeated opponent, rejects the UN investigation into war crimes allegations, has pledged that senior commanders accused of such war crimes will not face legal action, and will not reduce the military presence in northern Sri Lanka.
He was also acting defence minister at the end of Sri Lanka's civil war.
US Secretary of State John Kerry was quick to welcome the successful election and commended Rajapaksa for accepting the verdict of the nation's 15 million voters.
"I look forward to working with President-elect Maithripala Sirisena as his new government works to implement its campaign platform of a Sri Lanka that is peaceful, inclusive, democratic, and prosperous," he said in a statement.
Indian Prime Minister Narendra Modi called Sirisena to congratulate the new leader of "a close friend and neighbour".
(For updates you can share with your friends, follow TNN on Facebook and Twitter )