Following the election of Maithiripala Sirisena as new Sri Lankan President, the uprooted families from a section of the 5th Division and 7th Division of Champoor situated along both the sides of Champoor main road, started to clear their lands for resettlement. Their lands, seized by Colombo under the so-called 'Special Economic Zone' (SEZ) were to be handed over to a Chinese-owned corporate. The occupying Sri Lanka Navy was blocking the uprooted Tamils from resettling in their lands. Despite the 'regime change', the Sri Lanka Navy occupying Champoor and the Sri Lankan Police have chased away the 162 families, who were clearing their plots to prepare for resettlement in the 1,430 acres of lands appropriated by Colombo under the so-called SEZ.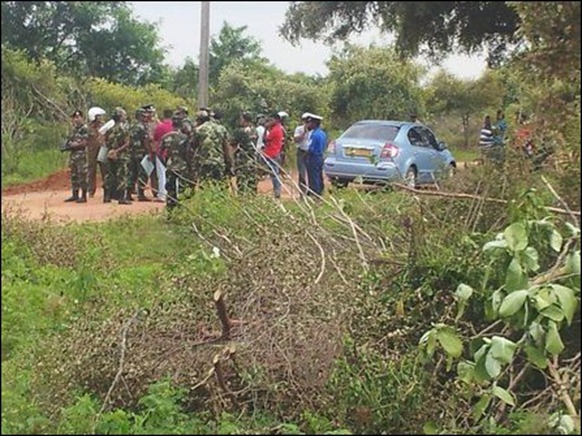 Officials from Colombo accompanied by SL military
Tamil National Alliance (TNA) politicians in Trincomalee are under pressure from the Sampanthan polity not to voice against Colombo at this juncture as the TNA is collaborating with Mr Maithiripala Sirisena's regime on a number of issues, including the future governance of the Eastern Provincial Council (EPC), the uprooted people from Champoor told TamilNet.
The campaigners of Mahinda Rajapaksa regime promised resettlement to a section of uprooted Champoor people if they were prepared to vote for Mr Rajapaksa. The uprooted people demanded that they should be allowed to enter their lands first in order to consider voting for Rajapaksa.
But, within a few hours after the elections, Sri Lanka's Board of Investment officials accompanied by SL Navy officers and SL Police came to their temporary huts instructing the people to move away from their lands.
The EPC members of the TNA have also been requesting the people to relocate peacefully without protest, the uprooted people said. The people were told that the TNA leaders wanted to give a few more days to the new government in Colombo.
However, two weeks have passed without a proper response from the Sri Lankan authorities and the TNA politicians, a representative of the displaced people in Champoor told TamilNet on Saturday.
The uprooted Champoor people were not allowed to resettle even in the lands that are outside the boundaries of the so-called HSZ and SEZ.
The officials who came from the Board of Investment and the SL military officers were telling the people that the uprooted would only be allowed to resettle under an official resettlement scheme and not on their own.
In the meantime, 22 families that have resettled in their lands situated near Kaa'li temple at Champoor have refused to move away from their lands as their lands do not come under the High Security Zone or Special Economic Zone.
(For updates you can share with your friends, follow TNN on Facebook and Twitter )