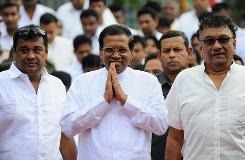 Sri Lanka's new president on Monday again delayed naming a cabinet as he failed to reach agreement with partners in his wide-ranging coalition over apportioning ministerial portfolios.
Maithripala Sirisena originally pledged to form a government on Sunday, but aides said discussions were still under way.
Analysts have already warned that Sirisena, who ousted veteran strongman Mahinda Rajapakse in last week's election, may struggle to satisfy the diverse coalition that backed his campaign.
"The cabinet is almost finalised, but there is some tweaking going on to accommodate partners," said an official who asked not to be named.
Sirisena on Sunday invited all parties to join his cabinet and spoke to top US diplomat John Kerry, after pledging to mend ties with the West.
The US secretary of state said Washington wanted to strengthen its relations with Sri Lanka, which soured under Rajapakse.
The president, who needs a majority in the 225-member assembly to push through ambitious reforms, has moved to strengthen his hold on parliament by securing further defections from Rajapakse's party.
He has pledged to reverse many of the constitutional changes made by the former president, who gave himself huge powers over all key institutions, including the judiciary.
Rajapakse's Sri Lanka Freedom Party (SLFP) split on Sunday night when a section of its policy-making central committee broke away and pledged support to Sirisena.
Sirisena loyalist Duminda Dissanayake said the SLFP had appointed the new president as party leader, though that was immediately challenged by the Rajapakse camp.
The split is a serious setback to Rajapakse's attempt to retain control of his party, which has already been hit by a large number of defections after former health minister Sirisena broke away late last year.
(For updates you can share with your friends, follow TNN on Facebook and Twitter )