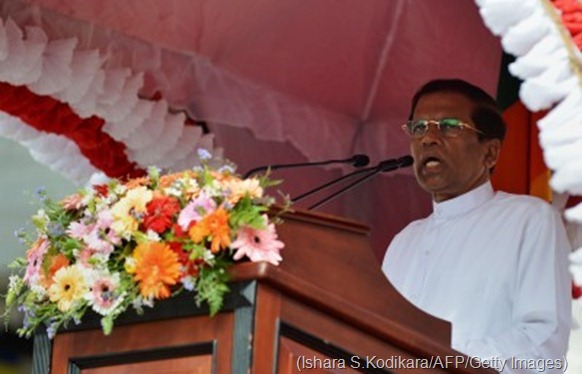 (By Editorial Board) SRI LANKAN President Mahinda Rajapaksa considered himself a shoo-in to win an unprecedented third term when he called an early election in November, and with some reason: He had presided over both victory in a 26-year-long civil war with Tamil insurgents and surging economic growth of 7 percent a year. The opposition had been cowed and criticism squelched by increasingly autocratic tactics.
Consequently, Mr. Rajapaksa's surprising defeat by a former member of his cabinet, Maithripala Sirisena, after an election in which 81 percent of voters participated, can only be taken as an impressive demonstration of Sri Lankans' commitment to preserving their long-standing democracy. Mr. Sirisena, who was sworn in Friday, has pledged to seek a swift constitutional reform that would strip the presidency of powers and create a parliamentary system. He has also vowed to restore the compromised independence of the judiciary, end the blocking of news Web sites and crack down on corruption.
Resistance to this liberal restoration may be fierce. Several associates of the new president charged that Mr. Rajapaksa conceded the election only after military and police commanders rejected his attempt to stage a coup. The former president denies this, but his supporters in Parliament will likely try to block the prime minister appointed by Mr. Sirisena, Ranil Wickremesinghe, from forming a government next week. The proposed constitutional rewrite, which Mr. Sirisena promised to carry out in 100 days, requires a two-thirds parliamentary vote to be enacted, as would the impeachment of the controversial Supreme Court chief justice installed by Mr. Rajapaksa.
Sri Lanka's big neighbor, India, and Western democracies have a major interest in the new government's success. After he came under sustained criticism for his human rights record, including a United Nations investigation of atrocities at the end of the civil war, Mr. Rajapaksa turned to China, which, never troubled by human rights violations, seized on the opportunity to extend its influence. Beijing lent billions for construction projects, and Chinese President Xi Jinping personally launched a $1.5 billion port project in the capital, Colombo, in September. The recent visit to Colombo by a Chinese submarine underlined the growing strategic relationship.
The new government says it will cancel the port project and investigate some of the Chinese contracts for corruption while balancing relations with India, Pakistan, Japan and China. If Mr. Sirisena succeeds in rebuilding democratic institutions, Sri Lanka will return to being a natural ally of India and the United States rather than the authoritarian camp of China and Russia.
Appropriately, President Obama welcomed Mr. Sirisena's victory as a "moment of hope" and said his administration looked forward to "deepening its partnership" with Sri Lanka. The election result offers Mr. Obama an unexpected chance to advance two important goals: his shift of U.S. foreign engagement toward Asia and the defense of democracy. Washington should do all it can to help Mr. Sirisena succeed.
(For updates you can share with your friends, follow TNN on Facebook and Twitter )