Sri Lanka: Part of rebel-held highway seized
COLOMBO, Sri Lanka – Sri Lanka's military captured a rebel-held village Saturday, bringing half of a main highway leading to the rebels' de facto capital of Kilinochchi under government control, the military said.
Military spokesman Brig. Udaya Nanayakkara said soldiers took control of Kanagarayankulam village, creating a link with other government-captured villages and putting 30 miles (48 kilometers) of rebel-held highway under military control.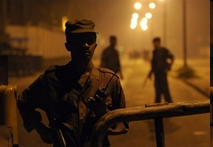 About 30 miles of the highway remain in rebel hands.
The road linking the northern Jaffna peninsula to the rest of the country had been under rebel control for the past 10 years, and except for a few years under a cease-fire it has been closed for civilian use.
Nanayakkara said casualty details from the battle were not available.
Meanwhile, air force jets bombed two rebel locations in the island's north, where government troops are trying to capture Kilinochchi, the military said in a statement.
Fighter jets targeted a rebel stronghold and a mortar-launching position in the Paranthan area, 2 1/2 miles (four kilometers) north of the rebel headquarters, it said.
Pilots confirmed the raids were successful, the military said, without giving casualty details.
Rebel officials could not be contacted for comment because most communication lines to rebel territory have been severed.
The military has increased its air strikes on northern targets in recent weeks in a bid to soften rebel resistance to soldiers trying to enter Kilinochchi.
(For updates you can share with your friends, follow TNN on Facebook, Twitter and Google+)