Karunanidhi condemns Lankan Army Chief remarks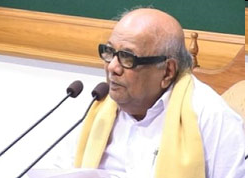 Tamil Nadu Chief Minister M Karunanidhi today condemned Sri Lankan Army Chief Sarath Fonseka for his reported remarks, describing state political leaders, who were fighting for the cause of Lankan Tamils as jokers.
Talking to newspersons here, he said ''if it is true that Mr Fonseka had described the Tamil Nadu political party leaders as jokers, it deserved to be condemned.'' He said leaders of political parties in the state criticsing against each other based on local issues, was different, but a foreign national criticising our leaders could never be accepted.

''If Mr Fonseka had described our leaders as jokers, it deserved to be severely condemned,'' Mr Karunanidhi said.

Mr Fonseke, in an interview to Sunday Observer had reportedly described Marumalarchi DMK (DMDK) General secretary Vaiko and Tamil National Movement leader P Nedumaran as ''jokers.'' On the Army Chief's remarks that India would not ask Sri Lanka to declare ceasefire, Mr Karunanidhi said only after discussing the issue threadbare with Prime Minister Manmohan Singh, it was agreed upon by the Centre to depute External Affairs Minister Pranab Mukherjee to Lanka to prevail upon the government to declare ceasefire.
The Prime Minister had agreed to the demand, he added.
(For updates you can share with your friends, follow TNN on Facebook, Twitter and Google+)